Savage: Nicki Minaj Fires Her Entire Glam Squad So She Can Get A New Image
Issa makeover queen.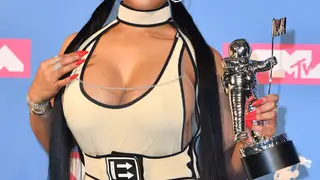 Nicki Minaj has elevated from a Harajuku Barbie to a Queen, and it has become quite obvious that she wants her team to match her royal status.
Recently, the 35-year-old rapper took to the 'gram to show her freshly tossed cotton candy wig along with the caption: "Thank you for making my #BarbieDreams come true lil baby @arrogant_tae123. Welcome him to the Kingdom Y'all."
Uh, Arrogant Tae? Where is her longtime hairstylist, Kim Kimble, fans wondered while quickly grabbing their snatched wigs off the floor.
In the same post, Nicki also thanked her makeup artist, Aaliyah Jay: "@aaliyahjay miss baby, you skilled Barbie's face. Love you. Don't give away the surprise tho."
Did the self-proclaimed "bad guy" fire her entire glam squad? It's looking that way. 
Many say it all started when Nicki received less than rave reviews about her long ponytails for the 2018 VMAs. Fans were not feeling her hair—at all! 
Fast-forward to now, Petty Activist did some digging after the rumors surfaced and actually revealed that Kim and Nicki have reportedly unfollowed each other on Instagram, and Kim even chose to follow Cardi B and her team.  
Apparently, Barbz has already been over the past hairstyles Kim has done for Nicki and has already been sending suggestions to have Arrogant Tae toss her wigs. Yikes!
Seemingly satisfied with the results, Nicki's fans began to rejoice to the glam squad overhaul—prepare yourself because it gets seriously shady: 
Whew, chile! People don't play when it comes to Nicki. You best come correct! 
Excited about his newfound client, Arrogant Tae, who is responsible for SZA's new neon wig, took to his Instagram to share how excited he is to be "Nicki's hairstylist." Surprisingly Nicki responded, confirming she can't wait for fans to see "what we have in store."
Looks like it's official. 
So, what do you think of Nicki's new look? Share your thoughts in the comments.