Azealia Banks Announces Double Disc Album, Fantasea
Rapper says she would rather work with Rihanna and Jay Z over Beyoncé and Lady Gaga.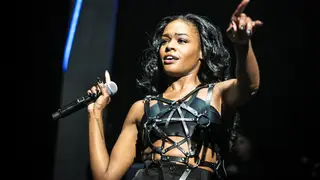 After recently releasing her debut album, Broke With Expensive Taste, after years of delays, Azealia Banks is already working on her next project. Speaking with SiriusXM Entertainment, the "Chasing Time" rapper announced that her next album will come in the form of a double disc and also revealed that she would rather collaborate with Rihanna than Beyoncé.
Serving as the follow-up to her Fantasea mixtape released in July 2012, the new double disc LP will feature "deep, dark energy," she said. "So this is what I want to do with Fantasea 2. I want to do like a double disc with Fantasea 1, re-record some of the songs and package it up and have a double disc with Fantasea 1 and Fantasea 2."
Fantasea, released independently, featured 19 tracks like fan favorites "Ima Read" and "Luxury." It served as the follow-up to Banks's 1991 EP, which boasted her breakout hit "212."
Later on in the interview, Banks was asked to list her top three dream collaborators. When asked, she stated that she would not work with Beyoncé or Lady Gaga — whom she was rumored to have recorded with in the past — if given the chance.
"I like M.I.A. a lot... I live for her," she said. "I would work with Rihanna. [Gaga?] No. [Beyoncé?] No. [Missy?] I would collab with Missy, but I would say Jay Z."
Elsewhere in the interview, the notoriously controversial rapper defended her constant use of the "F word" and blamed the "white gay media" for pressuring female artists to conform to their ideals of femininity. 
BET.com is your #1 source for Black celebrity news, photos, exclusive videos and all the latest in the world of hip hop and R&B music.
(Photo: Christie Goodwin/Redferns via Getty Images)