Stunning!: Vanessa And Natalia Bryant Wow Us In Opulent Dresses At The Dolce & Gabbana Show
We love it!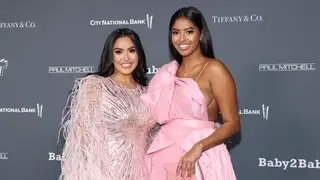 First, our mothers pick out our outfits. And now, we probably get our best, and most honest, fashion advice and tips from our moms. When we aren't sneaking her designer bags or favorite pieces, we try to mimic our moms' best looks or hassle them for advice when we are in the dressing room trying to decide our next purchase.
See all of our favorite mommy-daughter duos with a passion for fashion:
Vanessa And Natalia Bryant

Mom and daughter duo Vanessa and Natalia Bryant were among the A-listers supporting the Dolce & Gabbana Alta Moda Women's Show in Italy. The Bryant's wore stunning custom D&G gowns for the event held outside the historic Piazza Duomo in front of the Syracuse Cathedral. They are such a gorgeous mommy-daughter duo!

Kimora Lee Simmons and Ming Lee Simmons

Kimora Lee Simmons and her kids are such a vibe. Kimora took her eldest daughter, Ming Lee to Kim Kardashian's SKKN beauty launch. 

The mom-daughter duo posed with Kim and Khloe Kardashian wearing stylish bodycon dresses and fans couldn't but notice how much they look like sisters! Kimora looks like she's aging backward. We love to see it!

Porsha Williams And Pilar Jhena McKinley

Porsha Williams and her daughter Pilar Jhena McKinley are making lasting memories during their luxe Europe vacation! While visiting Arc de Triomphe in Paris, the proud mom snapped several stylish photos with her little one. Check out the mommy-daughter pair's matching Versace looks!

Porsha used the following George Sand quote for her caption, "Il n'y a qu'un bonheur dans la vie, c'est d'aimer et d'être aimé."

"There is only one happiness in life, to love and be loved," the French quote says in English. How lovely!

Kimora Lee Simmons and Aoki Lee Simmons

Kimora Lee Simmons and Aoki Lee Simmons took a moment to strike a pose and show off their fashionable outfits while attending the Dior Menswear runway show in Venice Beach. "Mother daughter date," Aoki captioned the stylish snapshot on May 21.

Toya Johnson and Reign Beaux

Toya Johnson and her adorable daughter Reign wore cute hot pink outfits for a mommy-and-me moment. Toya wore a pants and top and Reign wore a pink dress. So sweet! 

Tammy Rivera And Daughter Charlie

Tammy Rivera and her daughter, Charlie arrive to the 2022 Black Music Honors at Cobb Energy Performing Arts Center in Atlanta. The mommy-daughter duo were fly as per usual in stylish black outfits. We love it!

Serena Williams And Daughter Olympia

Serena Williams and daughter Olympia stay with the best mommy-and-me fashions! The tennis champ recently posted this throwback photo with her little one, along with a caption that read: "Hey @olympiaohanian, remember that time when we were in Paris? And we slayyyyyyeddddd."

Christina Milian and Violet Nash

Christina Milian and her daughter Violet dress in pretty pink outfits to attend the premiere of the Disney film, 'Driving Home To You.' They look like twins! 

Saweetie and Her Mom, Trinidad Valentine

Saweetie took her mom Trinidad Valentine as her date to the Billboard Women In Music event and fans couldn't help but notice how young she looks. The 'Best-Friend' rapper took a selfie with her mom, and followers immediately thought they were sisters. Saweetie and her mom both were both styled to perfection in sexy designer gowns. We love it!

Yandy, Toya, and Porsha

Love and Hip Hop Executive Producer, Yandy Smith hosted a party for her daughter Skylar's birthday and had all of her mommy friends attend with her daughters. The stylish moms wore matching outfits with their little ones, which was the cutest thing ever. 

Yandy and Skylar wore matching Gucci multicolor sweaters, Toya and her mini-me Reign rocked matching Milam Rouge trench coats, and Porsha and her little girl PJ in Dolce & Gabbana graffiti prints. 

Erica Mena

Erica Mena and her baby girl Saffire are too cute. The doting mom shared a photo with her 2-year-old daughter in matching blue leopard print outfits. "It's everything about HER ♥️," read her caption. Aww, how sweet!

Vanessa and Natalia Bryant

Vanessa and Natalia are such a stylish mommy-daughter duo. Natalia accompanied her mom to the Baby2Baby gala where Vanessa was honored for her continued philanthropic endeavors. The ladies wore gorgeous pink ball gowns. How sweet! 

Angelina and Zahara Jolie-Pitt

Angelina Jolie attended the premiere of her new Marvel film 'Eternals' alongside five of her children, who all advocated for sustainable fashion choices on the red carpet. Maddox, Vivienne, Knox, and Shiloh wore neutral-toned vintage and upcycled pieces, while eldest daughter Zahara Jolie-Pitt wore Angelina's gorgeous silver Elie Saab gown from the 2014 Oscars. 

Zara looks stunning in her moms gown! What a fashion statement!


Kenya Moore and Brooklyn Daly

Kenya Moore and her adorable daughter, Brooklyn are too cute. As the newest cast member of 'Dancing With The Stars,' Kenya donned a custom red gown for Monday night's episode. Her adorable daughter wasn't able to attend so she wore a red whimsical gown to match her mom's and twirled around. How cute!

Gizelle Bryant and her girls, Grace, Adore, and Angel

Gizelle Bryant is having the best time while vacationing in Miami with her daughters. The Real Housewives Of Potomac cast member recently took to Instagram to offer a peek into their fun family getaway, sharing some stunning photos with her three girls.

The Bryant girls are having fun in the sun while on vacation in California. The proud mom shared a pic with her girls in matching red and floral outfits. "Bryant girls on the move… ☀️❤️ #WestCoast," read her caption. How cute!

Adiz 'Bambi' Benson And Baby Cali

The proud dad celebrated the milestone by posting this hospital photo of baby Cali Richardson twinning with her mommy in leopard pajamas. Although we've yet to see Baby Cali's face, there's no question that this newborn is winning hearts with her adorable style at only a few-hours-old. Too adorable! 

Toya Johnson and Reign Beaux

Toya Johnson and her 3-year-old daughter, Reign are an adorable duo! They had the cutest mommy-daughter moment twinning in matching teal floral outfits while heading to a family party.

Toya posted a photo with her baby girl all smiles even blowing kisses at the camera. "Earlier today with this little cutie @reign_beaux," read her Instagram caption. How cute!

Porsha, PJ, and Simon's Daughter

Aww! Porsha Williams spent Friday afternoon on a yacht in Miami with her daughter Pilar "PJ" Jhena, 2, and her soon-to-be stepdaughter, Ximena Guobadia,8.

The stylish mama shared a pic of the trio, who were wearing matching red swimsuits. The family were enjoying vacation in celebration mode as Porsha's fiancé, Simon Guabadia, celebrated turning 57-years-old this week.

Ciara And Sienna Princess aka " Sassy Si"

There is no doubt that Ciara and her children are the cutest! Yesterday, the singer and mother of three posted adorable Instagram photos showing herself posed with her daughter Sienna Princess aka " Sassy Si" and her newborn son, Win. 

In the new pics, the mother-daughter pair fashionably rock matching white swimwear. Is it us, or is Sassy Si showing us that she knows how to pose for the camera? We love it!

Lela Rochon And Asia Rochon Fuqua

It's always a proud moment when a mom sends her daughter off to prom. Perhaps the moment was even more special for actress Lela Rochon who recently sent her teenager off to senior prom rocking the iconic red gown she wore to the 1995 movie premiere of Waiting to Exhale.

The proud mom posted these lovely photos showing her daughter, Asia Rochon Fuqua, wearing the red satin evening gown Lela wore more than 25 years ago.  

"Yes, I saved the dress," wrote Rochon in the caption of her side-by-side photos. "Wasn't sure why but now I know. #vintage."

Serena Williams, Olympia, and Qai Qai

Serena and Olympia are the coolest mommy-daughter duo. They recently posed in matching pink Nike swimsuits, and even Olympia's doll Qui Qui got in on the fun.

Tammy Rivera and Charlie Malphurs

Tammy Rivera and her 16-year-old daughter, Charlie are the cutest duo. Tammy launched her new T Rivera swimsuit line and enlisted her babygirl to model with her. 

"Sneak peak of Trivera 2021 collection... My baby @tammiesangel wants to model so her mama gave her her first paid gig, why not Kimora Lee Simmons started runway modeling at the age of 14," read her caption. 

They are serving in this suit!

Serena Williams and Olympia

Serena Williams and her 2-year-old daughter Olympia posed in an adorable photo modeling their matching hot pink swimsuits. With a poolside view in the background, Serena wore "The Shady One" and Olympia coordinated with the "Wild Child" bright one-piece.

The mommy-daughter duo made their fashion statement on Serena's Instagram feed. We are loving their mommy-daughter style!

Serena Williams And Olympia

Serena Williams and her 3-year-old daughter, Olympia, are the cutest duo ever! The Tennis champ recently posed in a Stuart Weitzman ad with Olympia by her side. The adorable tot wore a black bodysuit to match her mama, including a pair of leopard heels. How cute! 

"Introducing the Spring 2021 Campaign, Footsteps to Follow, starring Stuart Weitzman global ambassador Serena Williams and her daughter, Alexis Olympia Ohanian, Jr., in their first-ever fashion campaign together. Hope and optimism are central to every SW x SW campaign, and showcasing the powerful bond between mother and daughter in Footsteps to Follow highlights how every generation can inspire any generation," read their Instagram caption. 

Kenya Moore and Brooklyn

Kenya Moore is enjoying motherhood. The Real Housewives of Atlanta star recently posted a photo to Instagram hanging on the beach with her babygirl, Brooklyn. Kenya is flaunting her perfect curves in teal blue bikini while playing with her tot. "My most important job in life #mother," read her caption. They are the cutest duo. 

Chrissy Teigen And Luna

Chrissy Teigen was all smiles as she snapped a photo with her daughter and "best friend" Luna Simone Stephens. Despite the model's eldest child being a bit camera shy, the mother-daughter duo seemed to enjoy quality time together wearing stylish threads. A very sweet moment!

Kandi And Blaze

Kandi Burruss and her 13-month-old daughter, Blaze took the cutest selfie. The mommy-daughter duo is asking us to tune in to the next episode of Real Housewives of Atlanta. Kandi and her baby girl are using the sunglasses and red lipstick filter. This is so adorable!

Porsha Williams And Baby PJ

RHOA star Porsha Williams is getting into the holiday spirit. The 36-year-old mom recently took photos with her 1-year-old daughter, Pilar Jhene (PJ), and it's the cutest thing ever. They wore black pants with ivory sweaters with black hearts embroidered throughout. 

Porsha's caption read: "We wanted a pic in our matching tops, but here's our video wishing you well instead!! Happy Thanksgiving♥️" 

TOYA JOHNSON AND REIGN RUSHING

Toya Johnson and her daughter Reign Rushing keep us swooning with their mommy-daughter fashions. See for yourself how the adorable duo recently made the playground their runway with matching blouses and expensive Chanel handbags. So much fun! 

Cardi B and Kulture

Cardi B and Kulture are the cutuest mommy-daughter duo. Cardi recently posted a photo posing in matching custom rad and refined embellished sunglasses.

Cardi is also wearing a black Jessica Rich top and pants, a black Lavish Furs coat , Sister MJB earrings, and Reebok sneakers from her upcoming line paired with a black Hermes bag. Kulture wore matching fur vest and Reebok sneakers just like her mama. 

Toya Johnson And Reign Rushing

Reign Rushing may only be 2 years old, but the toddler is already a supermodel in the making! See for yourself how adorable the baby girl looked as she snapped a few images with her mom Toya Johnson in matching "Model Behavior" Jumpsuits ($28) by Nova Kids.  

 "Mommy & Me Model behavior," Toya captioned the Instagram photo with her youngest daughter. 

Too cute! It looks like the micro-influencer is already making her mark in modeling.  

Khloe Kardashian and True Thompson

Khloe Kardashian and her 2-year-old daughter, True are too adorable. The reality star and her daughter were recently vacationing in Turks and Caicos and went horseback riding in floral dresses and matching cornrows. How cute!

Serena Williams and Olympia Ohanian

Serena Williams is the funniest mama around. The Tennis champ hilariously puts on her 2-year-old daughter Olympia's tank top, and the gag is that she can actually fit it! Serena posted a video modelig the top in a bathroom mirror. In the clip she says, " I knew me and my daughter would be wearing the same size soon," as she prances around in the top. 

She also posted a photo of Olympia wearing the same white top with stars printed across it. We're pretty sure that they'll actually be sharong clothes sometime soon! 

Serena Williams and Olympia Ohanian

Serena Williams and 2-year-old daughter, Olympia are the cutest mommy-daughter duo. 

On Thursday, the tennis superstar, shared an adorable Instagram photo with her 2-year-old, with both wearing matching pink princess dresses and Olympia giving her mom a hand with her zipper.

"She's got my back already. And I'll always have hers," her caption read. 

We love their princess playtime!