Watch: Full Chilling Video of Korryn Gaines at Traffic Stop and in Fatal Standoff With Police
Here's how people are reacting to the 23-year-old's death at the hands of cops.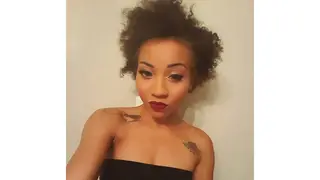 The death of Baltimore native Korryn Gaines, 23, is yet one more instance of police brutality that has stunned the Black community. Gaines, first fell into a standoff with cops in March, when she was pulled over for traffic violations, and then months later was tragically shot and killed just outside of her home after brandishing a legally-purchased 12-gauge, pistol-grip shotgun at police.
Many are in an uproar after learning that Gaines's 5-year-old son was also hit by gunfire, though he is expected to make a full recovery.
Now, a newly-surfaced video of a traffic stop recorded by Gaines herself depicts the young woman sitting in her car, arguing with police and trying to comfort her young child. This incident may or may not be the actual traffic stop that she was later called to court for, but her disdain for and distrust of the police is clear.
At points, she can be heard telling her son that the police "are not for us."
Another harrowing moment in the video occurs when the police tell her they are going to have to arrest her and Gaines responds, "They're going to have to kill me today...I've never been to jail and I never will go. You guys are going to take me away from here in a body bag." Later, we see Gaines try to comfort her clearly distraught child, telling him, "You see what they do to us, right? You fight them."
An officer off-screen says, "We don't want to kill you. We're your friends." To which Gaines asks her son, "Do you believe that?"
Her young son responds, "No."
More videos  in the days leading up to her death have now been released as well.
In one video that is dated two weeks ago, Gaines can be seen loading her the shotgun, the same gun she used to fire off two rounds before being killed by police fire.
Videos from Monday, the day of her death, are also now available. While local police asked Facebook to suspend her Facebook and Instagram accounts during the standoff, they have now been reactivated and the videos are visible.
The incident began when cops showed up to arrest Gaines over the aforementioned traffic violations. Rather than comply with police, she stood her ground and then began threatening cops if they didn't leave her property. In one video, she asks her young son if he would rather stay with her or go outside. 
"Who's outside," she asks.
"The police," her young son responds.
"And what are they trying to do?" Gaines asks.
"They're trying to kill us."
The most chilling video, however, comes from just moments before Gaines engaged in the deadly firefight. The young woman can be seen standing by the door in what appears to be a military helmet, body armor, and holding a gun.
Social media played a strange role in the tragic death, as NBC reported that as Gaines shared videos during her most recent confrontation with police outside of her apartment building, followers encouraged her "Not to comply with negotiators' requests that she surrender peacefully," Baltimore police said.
She warned the cops, "If you don't leave, I'm going to kill you." Sadly, she's the one who ended up being lethally shot and her death leaves her injured son without a mother.
Since Gaines' death, social media has continued to play a role, arguing both sides of the incident.
While some are arguing that if Gaines had complied, and not raised her gun to police officers, she may still be alive.
Many more have come to her defense, saying that her death is just the latest tragedy in a long line of Black men and women being treated with escalated violence simply because of their skin color.
Hopefully more information regarding the circumstances of Gaines' death will come to light soon. What is known now is that the arrest warrant for Gaines was issued after she failed to appear in court for a traffic stop in March. 
Many more will surely take to social media to share their opinions on who was right and who was wrong. Whichever side you agree with the simple truth is that a 23-year-old woman is gone, and a child will have to grow up without his mother.