Lizzo And Her Mom Star In New Instacart Campaign
"I'm excited to show this side of myself," she says.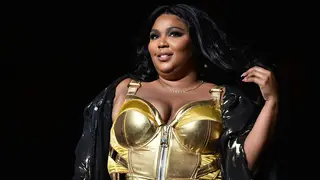 Lizzo is set to star in a new Instacart commercial during the 2022 MTV Video Music Awards on Sunday (Aug. 28).
According to People, the "2 Be Loved (Am I Ready)" artist will grace television screens in the premiere of her commercial for her new "The World Is Your Cart" Instacart campaign.
"I'm excited to show this side of myself," Lizzo shared with the outlet. "I don't really do partnerships that often, especially big ads like this. Normally you hear my music, but you don't really see me. It's going to be really cool to see myself in a commercial like this."
In the commercial viewers will see the award-winning artist sitting in a bathtub using the Instacart app on her phone. The ad will also remix her song "The Sign," off her new album Special.
"I thought the creative was super fun," Lizzo says. "It felt very me. I was like, 'Oh, this actually sounds fun. I just get to sit in a bathtub? This is a dream come true!'"
She also spoke about the meaning of the track, "I mean the lyric — 'If you're looking for the sign, this is it — was made for this. Come through and get your order."
At the end of the video, Lizzo, while still enjoying her bubble bath, is surrounded by people wanting a reimagined Alice in Wonderland tea party. One of the surprise guests in attendance is her mother, Shari Johnson-Jefferson.
"My mom has been asking me literally every week, 'When is it dropping? When is it dropping?,'" she says. "I'm not going to tell her because I want to surprise her. She's going to be watching the VMAs, and she's going to be like, 'Oh my God!'"