Miami Hurricanes Football Players Arrested for Sexual Assault
JaWand Blue, Alexander Figueroa allegedly sexually assaulted "physically helpless" teenage girl.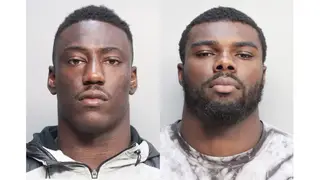 Two Miami Hurricanes football players were arrested on sexual battery charges against a "physically helpless" 17-year-old girl and have been dismissed from the team and suspended from school as of Tuesday, ESPN reports. JaWand Blue and Alexander Figueroa, a pair of 20-year-old linebackers for the University of Miami, are being held on $10,000 bond, according to the Miami-Dade County records obtained by the Palm Beach Post.
According to a police report, Blue and Figueroa admitted to buying drinks for the accuser before bringing her back to Figueroa's dorm room early Saturday and repeatedly perfoming sexual acts on her, including intercourse, while she was intoxicated and "physically helpless."
"Earlier today, I permanently dismissed JaWand Blue and Alexander Figueroa from the UM football team," University of Miami athletic director Blake James said in the statement, as reported by the Associated Press. "The University has also suspended the students from school and barred them from all campus facilities while the University conducts an internal investigation and continues to cooperate with local law enforcement. Any allegation of a sexual assault is extremely serious, and the University will not tolerate conduct that threatens the sanctity and safety of our students and our campus. We hold all of our students — especially student athletes — to the highest standards of moral conduct."
Both Blue and Figueroa — true freshmen last year — were expected to take on bigger roles for Miami's defense this season.
BET Sports News - Get the latest news and information about African-Americans in sports including weekly recaps, celebrity news and photos of your favorite Black athletes. Click here to subscribe to our newsletter. 
(Photos: Coral Gables Police Department)