Fulton County DA Claims Gang Sympathizers Are Threatening A Witness In Young Thug's Case
The rapper's lawyers are blasting the leak that may have resulted in the threats.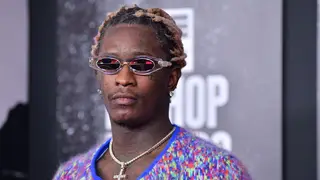 As Young Thug is fighting charges of racketeering and gang activity, the Fulton County district attorney is accusing gang sympathizers of threatening a witness.
According to WSB-TV, Fulton County District Attorney Fani Willis says a witness and their children have been threatened. A document and part of a cooperating witness' statement was reportedly posted on social media. Willis' office is now investigating the leak.
Young Thug's attorney, Brian Steel, is also blasting the leak, saying, "Whomever is placing items of discovery online is not doing anybody a favor. It is totally inappropriate to try this case in social media. This case will be tried fairly and justly in Fulton County Superior Court."
In May, the rapper, born Jeffery Lamar Williams, was charged with conspiracy to violate the Racketeer Influenced and Corrupt Organizations (RICO) Act and participation in street gang activity. Last week, the 30-year-old was also charged with a new gang charge, new drug charges, possession of a firearm during the commission of a felony and possession of a machine gun. The new indictment includes all 28 defendants from the May indictment and still focuses on YSL, an organization allegedly co-founded by Thug. WSB-TV reports that prosecutor Don Geary has mentioned Martinez Arnold and rapper Yak Gotti as being involved in the machine gun count, however, both have pleaded not guilty.
Young Thug has maintained his innocence.