Wale Says Meek Mill Could've Done Better in Drake Beef
"He brought a pencil to a gun fight."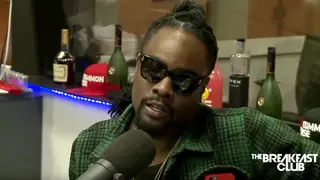 Maybach Music Group has different opinions on Meek Mill vs. Drake. Rick Ross recently told Power 105.1's The Breakfast Club that Meek won the battle, but Wale says different.
During his interview with the radio show, Wale explained why he thinks Meek lost. According to Mr. Folarin, Meek shouldn't have blasted Drake to begin with, but he didn't have a fair advantage. "I honestly think he brought a pencil to a gunfight," he said. "He ain't even bring a knife…a pencil, a piece of paper [and] tried to paper-cut him to death."
CLICK FOR A TIMELINE OF MEEK MILL VS. DRAKE DRAMA
Since Drake is the more popular of the two and just signed a deal with Apple, Wale thinks he was poised to beat Meek. "You can't compete with somebody that got them type of relationships," he added. "And I'm telling everybody who think Meek lost off the strength of losing. It doesn't matter what he made, he could've wrote 'Ether 3.0' and the opinions of the people would've been that the boy from Canada waxed him. My man went to Apple, it's like right there with McDonald's. [Meek] went to [Funkmaster] Flex. My thing is we talking about Apple, they can hear this in Germany, they can hear that on Jupiter probably."
Regardless, Wale is standing behind Meek and he's still cool with Drake, yet he admitted that his MMG homie hasn't answered his calls lately. "I ain't talked to him. I called him several times since [the Drake beef]. I don't know what's going on. I talked to a lot of dudes in Dreamchaser. Everybody cool or whatever, but when he did that [called Drake out], I thought he might be off the drank [alcohol] a little bit. I don't know what's going on, but [it wasn't] the right decision."
Aside from the Drake and Meek beef, Wale also talked about the Album About Nothin' not selling as he'd hoped, his relationship with Rozay (they're still on good terms) and gay rappers. The D.C. native says he'd have no problem signing a gay rapper "if he was dope."
CLICK FOR WALE'S BEST R&B COLLABORATIONS 
"People probably gonna go bad on me for saying this. It's an advantage to be a gay in this country right now," Wale said, using Frank Ocean as an example, though he's not a rapper. "Frank Ocean is a very, very dope artist. He got pushed to the moon when he dropped his album though. It's about 30 artists in the country that sold about how much he did or more. They didn't get none of that. He got to perform a prime spot at the Grammy's, all these things happened for him, and like I said, that's not taking anything away from him. But do you think Miguel was getting those looks? Not really. Ty Dolla $ign, not really. Their music is a little different but people [look at him] like a hero."
As for his career, Wale confirmed that he's working on another album, signed a new management deal and would like Kris Jenner to manage him.  
On a more serious note, the 31-year-old discussed battling depression and commented that he would  "blow his brains" if he doesn't achieve a certain level of financial success. "I appreciate what I have, but I know what I deserve."
Hopefully he was only kidding about that last part. In a perfect world, success wouldn't be measured by the amount of zeros in a bank account, but by the impact an artist has made. 

Watch the entire interview below.   

BET.com is your No. 1 source for Black celebrity news, photos, exclusive videos and all the latest in the world of hip hop and R&B music.
(Photo: Power 105.1 The Breakfast Club via Youtube)