What Happened? Raz B Storms Off Stage In Nashville And Then Posts Cryptic Message On Social Media
"I suggest nobody talk to me."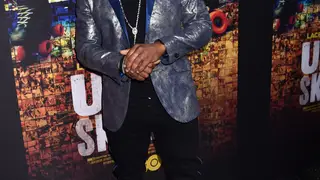 Raz B and B2K are currently on tour and it took a while for them to get to even that point.
The R&B quartet squashed their differences and are currently delivering fans of yesteryear dazzling performances across the country. Last night, though, something apparently changed for one of the group's members.

During B2K's performance in Nashville, Raz B abruptly left the stage before their set was over, throwing his microphone and walking off visibly frustrated. After the show was over, Raz took to his Instagram Story and explained — sort of — his premature departure from the show.

"It really sucks, this being my dream tour. It's not right! I'm the spirit of the group! I'm clearly alone in this!" he wrote. "Nashville, TN it's being real @omarion thanks for being there for me when nobody else would!!"

If that wasn't enough, Raz B says he wants space from everyone. "I suggest nobody talk to me! Cause none of y'all understand what I am walking through! Change the f*****g intro I hate it!"

Aside from hinting that the group's set intro is an issue, an IG user commented on a video of Raz walking off stage posted to the Shade Room, suggesting Raz's mic and headset weren't working well. The singer replied to the speculation with another comment: "Facts."

Guess we'll have to see how this plays out. B2K's next performance is tonight (March 24) in Memphis, Tennessee.

See what all went down below.