Steve Harvey's Ex-Wife Is Coming for All His Money Because He 'Damaged Her Soul'
She's accusing him of… murder?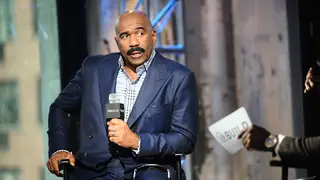 Last month, Steve Harvey's ex-wife, Mary Shackleford, put him on blast for the sloppy way he ended their marriage in order to tie the knot with his "mistress" (according to Mary, anyway), Marjorie Harvey.
She claimed their divorce was never finalized and said she wanted $50 million to make the problem go away, citing constitutional rights violation, falsifying documents, perjury, contempt of court, embezzlement, extortion and collusion.
Well, now she's upped the ante to $60 million and has added murder to the list of charges, filing a lawsuit in order to get her money.
According to TMZ, Mary has filed a $60 million lawsuit against Steve for "damaging her soul" — and a whole lot more. The suit was filed not by a lawyer, but Mary's "civil rights activist," and the two are accusing Harvey of the following: child endangerment, torture, conspiracy against rights, kidnapping, murder, breach of contract and intentional infliction of emotional distress.
Mary says she's been suicidal and self-medicates to cope with the aftermath of their 2005 split. 
Steve has not yet responded to the lawsuit, but perhaps the drama with his ex is one of the reasons he lashed out at his talk show production staff. Get the scoop on his outrageous memo to his employees with BET Breaks, above.