5 Things To Consider Before Voting On Election Day
Here are some steps to ensure your voice is heard and to boost Black voter turnout.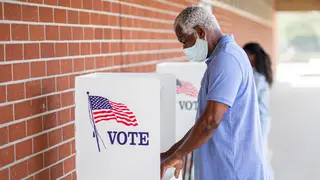 "The factors contributing to low turnout are complex, but there's no question that circumstances can make voting inaccessible or unattractive to Black voters," Myrick wrote. "Those circumstances range from deliberate (racial gerrymandering, voter suppression) to negligent (failure to encourage Black voters' participation year-in and year-out)."
That's one of the reasons the organization launched the Defend the Black Vote Campaign, a nonpartisan effort to reach Black voters, especially Black men stereotyped as low-propensity voters. The group is investing time and resources to educate and encourage them to cast a ballot.
With Election Day on the horizon, here are a few tips to consider in preparation for going to the polls:
A lot could go wrong on Election Day, ranging from poll workers saying that you're not registered to vote to outright intimidation. That's why it's important to know your rights before heading out to the polls. Here are a few tips from the American Civil Liberties Union:
If the polls close while you're still in line, stay in line – you have the right to vote.
If you need to correct a mistake on your ballot, ask for a new one.
If the machines are down at your polling place, ask for a paper ballot.
Voters are entitled to a provisional ballot, even if they aren't in the poll book.
If your name is missing from the list, ask if there is a supplemental list of voters.
2. Check registration and poll location
Visit your local elections office website to confirm that you're registered, the spelling of your name and address are correct, and the location of your polling station. Voters can find their local election office site and contact information by using the US Vote Foundation's database, here.
3. Know what to bring to the polls
Voter ID requirements vary. In 2022, Nebraska became the 36th state to require voter ID, while the other states and D.C. use other verification methods, according to the National Conference of State Legislatures. You can find out your state's requirements here. Also bring bottled water and snacks. There are states that have actually banned giving these items to people standing in line waiting to cast ballots.
4. Learn who and what are on the ballot
High-profile races – for Congress, governor, mayor and the like – overshadow other races. On Election Day, unprepared voters can feel overwhelmed by having to decide on candidates in low-profile races or ballot questions that tend not to receive media attention. Consider obtaining a sample ballot, usually available from election offices and libraries. Ballotpedia also has an online tool to view what's on the ballot.
Figure out how you will get to your polling station. Some places of worship and nonprofit organizations provide free transportation. Make arrangements with your workplace and for childcare if necessary. For those who need assistance to cast a ballot, contact your local election office to find out how to get the help you need.