Khloé Kardashian's Response To Lamar Odom's Confessions About Their Marriage May Shock You
The athlete shared his truth about their marriage in his new memoir.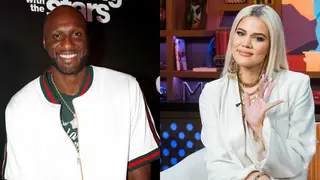 Lamar Odom recently returned to the spotlight following the release of his new memoir, Darkness to Light, and in it, he made some surprising confessions about his marriage to Khloé Kardashian.
In a clip for the upcoming season of Keeping Up With the Kardashians, Khloé reacted to the shocking details the athlete shared about their time together.
In the book, Lamar boldly opened up about threatening to kill the reality star while he was high on drugs. He said he screamed, "You trying to embarrass me in front of my friends? I'll f*****g kill you! You don't know what I'm capable of!" The Dancing With the Stars contestant also claimed Khloé caught him with a stripper and tried to beat "the s**t out of" her.
While speaking with her sister Kim, Khloé said she is unbothered by Lamar's claims.
"I'm fine. It's his truth. Like, he's allowed to tell his version," she said. "Him and I each played a significant role in each other's lives, so I think it's natural, like if I talk about my past I would hope my marriage would be a chapter I'd talk about."
She even commended him for speaking out about his past drug use, adding, "If he feels like talking about it — and if this is a form of his healing or therapy — then I actually think it's really courageous to talk about the amount of addiction that he's had. Like, the depths of it. So, it doesn't bother me."
She did admit, though, that his revelations were not "all great."
Take a look at the clip, below: