Michael Rainey Jr. Answers Fan Theories About Ghost's Return to 'Power'
"I don't understand, y'all think this is some fake show where people [are] comin' back from the dead," he says.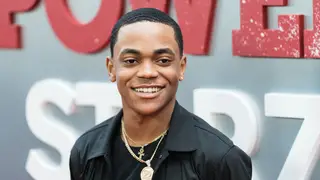 Rapper 50 Cent can't keep Power out of the headlines, as the most popular TV series among Black households has added another wrinkle to its fame.

According to HotNewHipHop, Michael Rainey Jr., a character actor who plays Tariq, has been loathed since — spoiler alert! — killing his father Ghost (Omari Hardwick) in the final episode of the original series. With a host of spin-offs equally being enjoyed by Black television watchers, many fans have started to wonder if Hardwick's titular character will appear in Power Book II: Ghost to shake things up.

Sadly, Rainey Jr. was quick to shut any talks about Ghost's revival down, as he took to Instagram to share that his TV father is never coming back.
"They asking me if Ghost will come back," said Rainey Jr. on Instagram Live. "The n***a died. Like, I don't understand, y'all n****s think this is some fake show where n****s comin' back from the dead. This is Power. It's not that s**t. It's not like when Kanan got set on fire and came back. He ain't get set on fire, he caught a Figi [gunshot to the face]."

In case you missed it, Ghost will not be coming back in a flashback, a flash-forward, a not-so-startling surprise reveal or nothing. Since Rainey Jr.'s character is the one who put the final nail in Ghost's coffin, it makes sense that he and his character would not sway on this stance.

But, in the world of Power, you can never really be too sure.