Anti-Vaccine Mandate Protesters Storm Brooklyn Nets Home Opener In Support Of Kyrie Irving
Officials at the Barclays Center in Downtown Brooklyn were forced to temporarily close its front doors.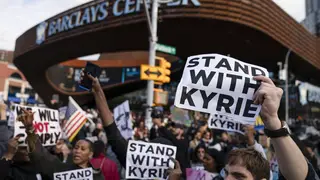 About 100 Anti-COVID vaccine mandate protesters rallied Sunday (Oct. 24) in support of the Brooklyn Nets star point guard Kyrie Irving and tried to storm the Barclays Center on the team's season home opener.
Irving has declined to comply with New York City's mandate to get at least one COVID-19 vaccination to play home games. The team has benched him until he gets a shot, although he could technically play in places outside of the city where vaccines are not mandated.
Before trying to storm the area, some protesters blocked traffic on Brooklyn's busy Flatbush Avenue. They held signs and shouted "No vaccine mandate, stand with Kyrie," in support of Irving, ESPN reported.
Some protesters who gathered at the area's plaza knocked down barriers and rushed toward the front entrance. However, stadium security prevented them forcing their way inside, prompting them to increase security measures.
"Barclays Center briefly closed its doors today in order to clear protestors from the main doors on the plaza and ensure guests could safely enter the arena," a Barclays Center spokesperson said in a statement, according to ESPN. "Only ticketed guests were able to enter the building and the game proceeded according to schedule."
According to the New York Daily News, Mayor Bill de Blasio enacted the mandate in August that required hosts and guests at indoor entertainment venues to get vaccinated. Consequently, players for the Nets and Knicks were banned from playing or practicing at home if they declined the vaccine.
The Nets decided to bench Irving at home and on the road, saying they did not want a part-time player.
Irving, who stands to lose $34.9 million this season, has defended his decision as a personal choice that is best for him, according to NBC News.
"It's about choosing what's best for you. You think I really want to lose money? You think I really want to give up on my dream to go after a championship? You think I really just want to give up my job?" Irving said in an Instagram Live post.