Here's LaVar Ball's Priceless Reaction to Sneaker Giants Passing on a Deal for His Son
"The taxi industry wasn't ready for Uber, either."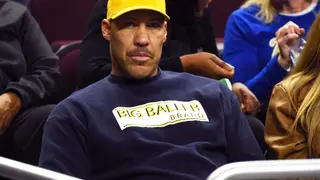 Remember LaVar Ball's $1 billion demand for sneaker companies to endorse his three sons, Lonzo, LiAngelo and LaMelo? Well, it's not off to such a hot start.
Sources with Nike, Adidas and Under Armour confirmed with ESPN.com that they're moving on from the idea of making Lonzo Ball an offer. LaVar himself acknowledged much of the same with the website, revealing that the three sneaker giants aren't interested in Lonzo, despite him being projected as a top-three pick in the 2017 NBA Draft.
According to ESPN, LaVar met with all three companies and even had a prototype for Lonzo's first shoe, but they weren't into the idea of licensing his Big Baller Brand. 
Although he has to feel spurned, the proud dad remains undeterred and daring as ever.
"We've said from the beginning, we aren't looking for an endorsement deal," LaVar told ESPN. "We're looking for co-branding, a true partner. But they're not ready for that because they're not used to that model. But hey, the taxi industry wasn't ready for Uber, either."
Wow. Ball even took the time to address Nike consultant George Raveling, who called him "the worst thing to happen to basketball in the last hundred years" during the SportsBusiness Journal's World Congress of Sports last week.
The way he sees it, LaVar is sparking friction because he's going against the grain of industry standards.
Hmm...he does realize how rich the aforementioned sports greats that he name-dropped are, right?
Since the three sneaker giants have moved on, LaVar is already vowing to speak with Chinese brands such as Anta, Peak and Li-Ning, which makes NBA superstar Dwyane Wade's signature shoe. LaVar inexplicably said that he would even reach out to "Facebook" as a possible endorsement partner for Lonzo.
"We're not going to sign with a company," Ball added, "and then wait around for five or six years for a shoe like Paul George had to wait for with Nike."
Of course, one way to possibly make Nike, Adidas and Under Armour change their minds would be if Lonzo's NBA game lives up to the hype that his dad created for him. Maybe they can revisit a possible deal then.
Last month, while speaking with BET.com, Mr. Ball talked about a co-branding deal being way more important to him than an endorsement deal.
"Everybody who comes into the league, Nike or Adidas gives them an endorsement deal," Ball told us at the time. "I don't want an endorsement deal. That's nothing. They'll make you wear the shoe for $2 million, $3 million a year or even if they give you $100 million for 10 years, they think they're doing something for you. But yet, they're making $2 billion, $3 billion on the product per year, so that's like pennies. That's nothing. That's crumbs."
BET Sports News — Get the latest news and information about African-Americans in sports, including weekly recaps, celebrity news and photos of your favorite Black athletes.