Who's The G.O.A.T. Rap Crew? Soulquarians vs Hypnotize Minds | Round 2
In the tournament to decide the greatest Rap crew of all time, this Round 2 battle is a matchup between the Soulquarians and Hypnotize Minds.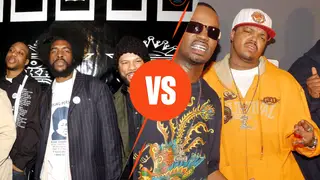 In recognition of hip hop's 50th anniversary, BET Digital, in partnership with Ambrosia For Heads, is celebrating the culture by hosting a bracket-style competition that allows you to determine hip hop's greatest crew.
Rather than having "experts" tell you who is the greatest of all time, this is your opportunity to collectively make that decision. After giving the opportunity to any and all fans to provide feedback on which crews should be included, 32 collectives from different regions, styles, and generations have been selected—all vying for that #1 spot. When the final battle is over and the last vote is cast, you will have determined who is your Greatest Rap Crew of All Time.
In this celebration of hip hop and all of its talented crews, your vote decides the winner, so vote below.
Soulquarians vs. Hypnotize Minds | Round 2
Hypnotize Minds
(defeated CMG in Round 1)
The Hypnotize Minds crew harnessed the magic of underground albums in the 1990s and used that same formula to win Oscars and earn a hallway full of plaques. Three 6 Mafia, a rapping and producing conglomerate including Juicy J, DJ Paul, Gangsta Boo, Crunchy Black, Lord Infamous, and Koopsta Knicca, extend beyond their collective to involve Juicy's brother Project Pat, Lil Wyte, La Chat, and others. Across the board, the energy blended soul samples with beats designed to tear da club up. Songs like Three 6's "Sippin' On Some Syrup and Pat's "Chickenhead" kicked in doors with an extended crew.
With platinum and gold plaques already on hand, support increased by the mid-2000s after songs like "Stay Fly" took Three 6 to new heights, as the soundtrack song "It's Hard Out Here For A P*mp" earned the group an Academy Award.
The mainstream began to embrace an unapologetic and street-rooted sound. Juicy's influence would soar through a new generation of artists, ranging from Wiz Khalifa to Katy Perry. At the same time, Hypnotize Minds fed core fans with projects by Gangsta Boo and La Chat together as well as Da Mafia 6ix—an amended version of the original Three 6 Mafia. Even after the passing of Infamous, Koopsta, and Gangsta Boo, Hypnotize Minds' music remains active and keeps fans entranced.
Soulquarians
(defeated Griselda in Round 1)
The Soulquarians crew transcends proximity, label association, and the typical features surrounding rap squads. This collective began through a combined creative residence in Manhattan's Electric Lady Studios—a space once commissioned by Jimi Hendrix. The core crew, comprised predominately of Aquariuses, includes Questlove, J Dilla, Common, Erykah Badu, D'Angelo, and keyboardist James Poyser, who worked with other artists and musicians, including Talib Kweli, Yasiin Bey (aka Mos Def), Bilal, Q-Tip and others, between 1992 and early 2002.
These would-be musical legends jammed in various groupings and formations to oversee albums, including The Roots' "Things Fall Apart" and "Phrenology," Common's "Like Water For Chocolate," Q-Tip's "Amplified," as well as non-rap classics by D'Angelo and Erykah Badu. The results of these sessions appeared in The Roots and Erykah's Grammy-winning "You Got Me" and Common's "The Light."
The brew from these jam sessions also spilled into albums, including Mos Def's "Black On Both Sides" and Slum's "Fantastic, Vol. 2." However, the lineup and even this crew's official name is murky, according to Questlove. What is much more clear is the impact of the music from that period. Artists from Philadelphia, Detroit, Chicago, and Virginia came together in downtown New York for something communal and culture-shifting. Although the fans never received it, a lost-and-found (and lost again) interview suggests that even Slum Village co-founder J Dilla believed—at least for a time—that a Soulquarians album was possible. Across all of these songs and albums, the Soulquarians' impact outweighs their legend.
---
EDITOR's NOTE: Register for the sweepstakes for a chance to win the grand prize of two (2) tickets to the 2023 BET Awards, two (2) round-trip airline tickets, and a 2-night hotel stay on June 25. Up your chances to win by voting weekly.
NO PURCHASE NECESSARY TO ENTER OR WIN. VOID OUTSIDE OF THE 50 U.S. & D.C. AND WHERE PROHIBITED BY LAW. Open to legal residents of the 50 U.S. & D.C. who are 18 years of age or older at the time of entry. Ends at 12:00 p.m. ET on May 1, 2023. Official Rules: bet.com/grcoat-official-rules  Sponsor: Black Entertainment Television.