NAACP Urging 'Extreme Caution' For Visitors To Louisiana
Several bills targeting LGBTQ people are currently being considered at the Louisiana state legislature.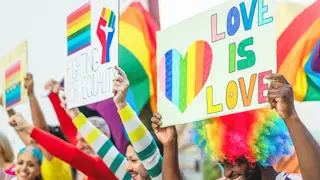 Black and LGBTQ+ people have been fiercely warned by the NAACP of Louisiana to exercise "'extreme caution" when visiting the state, NOLA reports.
The organization has described the state as a "dangerous environment" due to several bills targeting the rights of Black and LGBTQ+ people that are currently being considered at the state legislature.
The State Conference of Lousianna's NAACP released a letter on Wednesday that referenced several pieces of legislation spotlighting "civil rights and LGBTQ+ issues they said have made residents and visitors unsafe."
The bills listed in the latter include House Bill 648, which would out offering medical care to gender-affirming minors, Senate Bill 159, which would essentially jail 17-year-olds with adults in some cases; and HB 466, which would ban any discussion of sexual identity and gender in public school classrooms, among others.
The state NAACP said travelers in the state could face "discriminatory laws or policies" and highlighted numerous bills that center on voting rights and the criminal justice system which has the potential to negatively impact Black people in the letter.
"Recent actions under the influence of Republican legislators have fostered an atmosphere of fear and intimidation, marked by a blatant, relentless, and systemic attack on democracy and civil rights," the letter reads.
The group also demanded that Gov. John Bel Edwards veto any legislation the marginalized Black and LGBTQ+.
Although Louisiana has not passed anti-LGBTQ+ laws in comparison to other conservative states, the recent uptick of bills that zeroed in on the rights of LGBTQ+ rights has been a cause of concern for civil rights groups.
"Florida is openly hostile toward African Americans, people of color, and LGBTQ+ individuals," The travel advisory read. "Before traveling to Florida, please understand that the state of Florida devalues and marginalizes the contributions of and the challenges faced by African Americans and other communities of color."
"Under the leadership of Governor Desantis, the state of Florida has become hostile to Black Americans and in direct conflict with the democratic ideals that our union was founded upon," Johnson said.