L&HH Star Speaks Out on Being Arrested on Her Birthday
She's maintaining her innocence.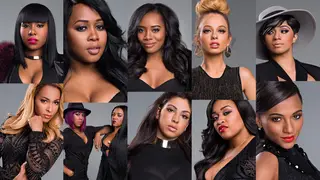 Yesterday (May 9), we reported that Tahiry Jose had a not-so-nice birthday and was actually arrested for allegedly assaulting a woman who was staying in her home.
Well now, the model-actress is speaking out about what went down and tells Bossip that she's innocent and was simply defending herself. According to Jose and sources close to her, the unnamed woman was allowed to stay with her for 30 days in order to get herself together after she was kicked out by her former boyfriend.
Apparently, only 10 days had gone by and Tahiry had done far more for her than providing the woman a place to crash. She reportedly drove her to her former residence to retrieve several boxes of her stuff and even helped the woman secure a job interview with 50 Cent's company.
"It's not the first time that I opened my door to someone and it all blew up in my face," Jose told the celebrity gossip website. "I told my friend, here I go again!"
Tahiry Jose acknowledged that her b-day was ruined, but questions why she was even the target of the young woman's alleged rage.
"My birthday ended off with some b***s***," Jose says. "I was the birthday girl so I had to be the host. I don't even know what went wrong, she (the girl involved in the fight) got into it with one of the other people at the party and she stormed off."
A friend of Tahiry's claimed the party continued without her friend who stormed off. It was when Jose arrived home after 5 a.m., several neighbors heard the altercation. The authorities would be notified by neighbors and subsequently Tahiry after the fight broke out.
"She was screaming, 'It's all about you, all the time, you old a**! I got something for that a**," an insider said, who also questioned police's motives behind Jose's arrest. "Tahiry asked them, so I have to go in because she's bruised? If she comes home and blows my brains out, that's when you're going to arrest her? That's when they told her to turn around."
It's unknown whether charges by either party were filed over the incident. One thing's for sure, the young woman staying with Tahiry won't be there for long.
Check out an Instagram post Tahiry Jose made about moving on below.