BET Launches 'Where Black Fathers Are Celebrated' Campaign In Celebration Of Juneteenth And Father's Day 2022
BET honors 157 fathers and father-figures in recognition of 157 years of freedom.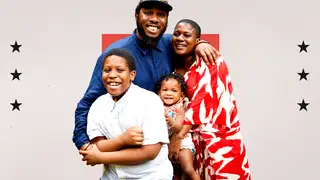 May 26, 2022 (New York, NY) – BET, a unit of Paramount (NASDAQ: PARAA; PARA; PARAP), today launched the 'Where Black Fathers Are Celebrated' campaign to honor inspiring, Black fathers and father-figures across the country.
Kicking off today, Thursday, May 26th through Friday, June 10th, consumers can use Greenfly to submit a one-minute or less video honoring and acknowledging a Black father or father-figure speaking to the biggest impact they have made, and how it has encouraged nominators to make an impact in the community.
"Being a father is truly my greatest honor; my most prized title," said Scott Mills, BET CEO. "I was lucky to have not only my father, but extraordinary father-figures in my life, supporting me through my endeavors, and now having three amazing children of my own, I hope to inspire them to serve their communities as the men in my life and father did for me. We hope this contest will help celebrate all the incredible fathers and father-figures out there who are making an impact and leaving a legacy in our communities."
"This year, Father's Day and Juneteenth fall on the same day, so we wanted to use this day to celebrate the Black father's and father-figures in our community who are leading the way," said Jeanine Liburd, Chief Social Impact and Communications Officer. "In commemoration of the 157th anniversary of Juneteenth, BET will celebrate 156 individuals, along with one grand prize winner. Each father or father-figure will receive a BET Father's Day package to show our appreciation for those who are making strides to help shape the lives of those in our community."
A judging committee comprised of BET employees will select the 156 second prize winners along with one (1) grand prize winner who will receive $10,000. The 156 second prize winners will choose from one of 10 themed BET Father's Day Gift Boxes perfect for any type of Dad, including:
Grooming Kit: Featuring a Bevel Trimmer and products, this kit has everything needed for a professional level shape-up at home.
Self-Care: Includes an assortment of Scotch Porter goodies needed to keep beard, hair, face and sensitive areas in check.
Noir Bar Old Fashioned Bar Kit: This sophisticated, super deluxe set is the ultimate gift for whiskey lovers with high-end ingredients and accessories to craft the perfect cocktail.
Play Music: for the music lover, this package features a Sonos Roam for quality sound no matter the location.
Fitness: A Theragun mini, is compact but powerful, providing relief for the fitness lover.
Beats: Powerbeats Pro are perfect for the on the go dad who never stops.
Pro Grilling: This luxe grilling kit includes a Williams Sonoma BBQ Tool Set with Storage Case, Williams Sonoma Digital BBQ Fork Thermometer, Grill Prep Trays and OXO Sauce Dispensing Brush perfect for a summer of backyard BBQ's and cookouts.
Leather: Only the best of the best for dad. This set features Double Zip Toiletry Bag and Thin Bifold Wallet perfect for travel.
Charged: The Courant Wireless Charging station ensures devices are always charged and ready to go.
Hot Shave: The Heated Razor Starter Kit by Gillette Labs ensures every shave is smooth and comfortable.
All submissions will be selected based on three key characteristics nominees embody in both their personal life and the community. Winners will be someone who has served as a role model or inspiration and/or championed the personal and professional endeavors of those in their life, fought for personal freedom and is invested in their children's/those in their care ability to live a thriving life and is someone who has made a sacrifice allowing loved ones to achieve their goals. The winners will be selected on June 11th and announced on June 19th.
Individuals in 50 states who are 18 years of age and older are eligible and welcomed to submit a video honoring their father or father-figure. For additional information and full terms and conditions please visit BET.com.
BET, a subsidiary of Paramount (NASDAQ: PARAA; PARA; PARAP), is the leading provider of premium entertainment, music, news, digital and public affairs content for Black audiences worldwide. BET linear is in 125 million households and can be seen in the United States, Canada, Brazil, the Caribbean, the United Kingdom, sub-Saharan Africa and France. BET is one of the most well-known Black consumer brands worldwide, with multi-platform business extensions including BET Studios, an unprecedented studio venture that offers equity ownership for Black content creators; BET+, the preeminent streaming service for the Black audience; BET Digital, including BET's wide reaching social platforms and BET.com, a leading Internet destination for Black entertainment, music, culture, and news; BET HER, a 24-hour entertainment network targeting the African-American Woman; BET Music Networks - BET Jams, BET Soul and BET Gospel; BET Home Entertainment; BET Live, BET's events and experience business; and BET International, which operates BET around the globe.