Neo-Soul Lives On Through The Very Artists Responsible For Its Reinvention
Contrary to popular reservations, modern R&B has not lost its soul.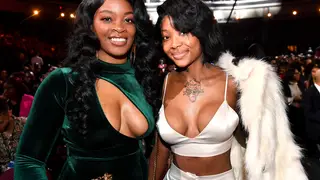 Neo-soul came to form on the cusp of two eras.
Hip-hop was booming, quickly growing into a cultural and commercial behemoth, while R&B was undergoing a remodeling in which producer-driven digital soundscapes reigned supreme, and organic instrumentation was falling to the wayside.
R&B never died, and neo-soul is responsible for its resurgence and reinvention. Though it can be argued that there was a moment of abandonment, when labels recalibrated their focus amidst a now antiquated record sales system and dwindling radio airplay. Then, in 2018, subtle but significant growth in R&B consumption and Album of the Year Grammy recognition saw the genre's "return." Despite what was deemed the dégringolade of the sound, informed by persistent critiques upholding arbitrary prerequisites for what quantifies as "real" R&B, the genre has a history of shifting and reshaping in both subtle and transformative ways.

R&B and soul music from the early-aughts has lived on through these younger artists, despite popular opinion suggesting the genre has given way to a less recognizable, lesser quality sub-genre. New iterations of R&B are criticized for straying too far away from what is now considered traditional. Where neo-soul should be given more credit for informing a new generation of sounds; instead, the beloved genre's praise is tied to ahistorical nostalgia that eclipses its actual record of influence.

The term "neo-soul" was coined by former Motown Records President Kedar Massenburg in the late-1990s as a marketing category following the success of D'Angelo's 1995 debut album, Brown Sugar. The album was certified platinum and spent more than 65 weeks on the Billboard Top 200 Chart, and propelled the need for a definition of the fresh but familiar sound; an innovative take on traditional soul and funk enmeshed with contemporary R&B, jazz, gospel, spoken word and hip-hop. 

Some would contest the sound found its footing as far back as the late-'80s and early-'90s with the influence of acts such as Tony! Toni! Toné!, Terence Trent D'Arby, Joi and NdegéOcello, whose 1993 debut, Plantation Lullabies, went on to later be credited as a beginning moment in neo-soul.

But one of the premiere progenitors who guided R&B's transition to neo-soul was the late legend Prince. In the 2001 biography Aaliyah: More Than a Woman, journalist Christopher John Farley wrote, "before there was a name for it, Prince had been carrying a torch for neo-soul for decades, refusing to make R&B that played by the rules or fit into comfortable formats. In the mid-'90s, he was suddenly joined by a host of other soul artists who also wanted to break boundaries."

Along with Maxwell's 1996 Urban Hang Suite, Erykah Badu's breakthrough 1997 project, Baduizm, went on to become a quintessential model of the genre. The mid-'90s saw its acceleration, and by 1998, the neo-soul movement reached its zenith. The late-'90s saw artists of similar sounds and stylings unite as The Soulquarians, giving way to some of the period's most prolific music.

In the early-2000s, albums from some of the genre's staple singers like Jill Scott, India.Arie and Musiq Soulchild wouldn't garner the type of commercial success their pop and hip-hop counterparts did. The neo-soul movement didn't die, but it did see a decline. There isn't a singular explanation for that wane, but the genre's impact was as obscured as its emergence. From the disappearance of D'Angelo to the abrupt ascension and subsequent lull of Lauryn Hill's time in the limelight, paramount neo-soul artists went missing from the scene and the charts.

That transition period between neo-soul's rise and presumed fall still managed to produce the likes of new stars. Tracing influences of what some would venture to call "Millennial Soul," this year, we saw a resurgence of sounds native to that era, as R&B in its totality continues to evolve. As journalist Mark Anthony Neal so aptly stated in the 2003 book Songs in the Key of Black Life: A Rhythm and Blues Nation, "neo-soul and its various incarnations has helped to redefine the boundaries and contours of black pop." In 2019, R&B continues to revitalize pop music.

Vestiges of neo-soul, in particular, can be heard in the sounds of standout singers of the current landscape, producing some of the most popular music of today. Ari Lennox is one of the more visible voices of neo-soul's new iteration. The Dreamville singer's appeal is marked by her vintage voice, with its textured tone anchored by poignant vocalizations à la Badu, bound by Jill Scott's simple, sultry and storied lyricism. Her debut album, Shea Butter Baby, released earlier this year and peaked at no. 7 on the US R&B chart; a testament to the remnants of neo-soul's now covert commercial appeal.

Then there's Marco McKinnis—a disciple of Anthony Hamilton, Maxwell, Prince and D'Angelo. The Virginia native released his debut project, Underground, greeting the summer of 2018 with six unskippable songs of love and loss. Baby Rose's dark ballads, Kyle Dion's Maxwell-mirroring falsettos, and H.E.R.'s neo-soul-leaning instrumentation and studious approach to songwriting (which earned her two Grammy awards earlier this year) have also contributed to the genre's reemergence.

Record labels are harboring a renewed interest in neo-soul's current generation as well. Keep Cool, the offshoot label of RCA Records helmed by Tunji Balogun, signed a handful of new acts like the cool crooning sister duo VanJess and New Orleans native Lucky Daye, who'd written songs for both R&B legends and newcomers, such as Boyz II Men, Mary J. Blige, Keith Sweat and Ella Mai, before creating his own funk-fused serenades. And there are more singers adding to the pantheon of new neo-soul, like fast-rising U.K. singer-songwriter Mahalia, Brooklyn's Babyface-reminiscent Adrian Daniel and the 22-year-old avant-garde singer and multi-instrumentalist Donavon.

What can be gleaned from these modern acts is their equally experimental approach to R&B that defined the music of their predecessors. As writer Jason Anderson configured in 2009, the allure of neo-soul has always been in its intention of maintaining a "continuum" defined by a "mix of chic modernity and time-honoured tradition," where its innovators pulled from the past to forge a new future.

Though it has been rarified over arguments asserting the waywardness of modern R&B, one would be remiss to understate how the much-loved genre has maintained itself, still seeping into the airwaves and onto the charts. Romanticization of the old shouldn't come at the expense of disregarding the new. Listeners leaning towards R&B traditionalism use nostalgia as a tool to maintain structure over a genre that has historically been malleable and expansive. Revisionism can erase parts of the past in that way, but it can also serve as recourse; a means of correction. 

This requires listeners to consider what has already been documented and accept that new artists' real-time contributions — no matter how far they grow from the root — are of similar value. Only an informed sense of open-mindedness can ensure the genre's continuation, not just in its cherished state, but in all its various forms.