Yo Gotti Has A Birthday Wish For Kim Kardashian
Anything is possible.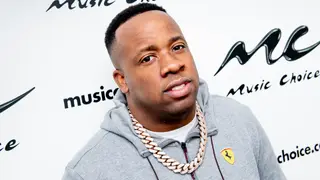 Yo Gotti is known for shooting his shot.
This time, it isn't about his crush on Angela Simmons, rather, it's his hope that someone with more power and influence than him can help his friends behind bars.
The Memphis rapper, whose 38th birthday is tomorrow (May 19), took to his Instagram to share a picture of himself and Kim Kardashian. In his caption, he pleads with the high profile businesswoman and reality star to free the homies.
"For My Birthday Everybodyl Tell Kim to Help Me Free My Guys," he wrote.
Kim Kardashian's lawyers Brittany K. Barnett and MiAngel Cody of The Decarceration Collective have been working hard to free prisoners who received harsh sentences for drug offenses and their campaign, 90 Days of Freedom, has freed 17 men and women over the past few months, reuniting them with their families after years behind bars.