North West To Star In 'PAW Patrol' Movie With Kim Kardashian
Little brother Saint West will also make a cameo appearance.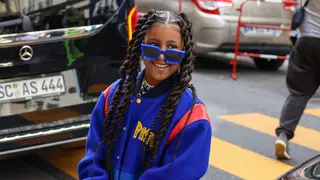 North West is joining the Paw Patrol: The Mighty Movie cast and will make her voice-acting debut in the upcoming film.
According to Deadline, West will join her mom Kim Kardashian, who is reprising her role as Delores, from the first movie. Little brother Saint West is also said to make a cameo in the film which will be in theaters on Oct. 13.
Serena Williams, Marsai Martin, Lil Rel Howery, Taraji P. Henson, and others are also a part of the PAW Patrol cast.
Back in 2021, Kardashian hosted a family screening of PAW Patrol: The Movie and shared the experience on her Instagram, Page Six previously reported.
"I meannnnnnn, how cool is this? I'm so excited for everyone to see @pawpatrolmovie. It's sooooo good."
"Okay guys, I want to welcome everyone here to the 'PAW Patrol' movie. "I'm so excited that I get to show all my kids, all the cousins, and all my friends and everyone my first [animated] movie! This is so exciting."
Following the news of North's PAW Patrol gig, Twitter users responded on social media to allege that the role was given based on nepotism, which is a label used to describe famous children of celebrity parents.