Karine Jean-Pierre: Five Things To Know About Kamala Harris' New Powerhouse Chief Of Staff
From Queens, New York to the White House, the Haitian-American is making history.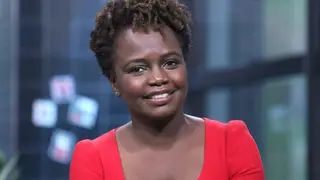 Sen. Kamala Harris made history by being the first Black woman, Indian-American and HBCU alumni to be chosen as a vice presidential candidate. With Joe Biden by her side, she is more than prepared to take on Donald Trump and Mike Pence. However, everyone needs a team and Harris has come to depend on one woman who is clearly a fighter and an inspiration for those who advocate for social justice and systemic change. 
Meet Harris' Chief of Staff Karine Jean-Pierre, Harris' who is a former Obama staffer and checks several boxes that make her so dynamic. She's a Haitian-American, child of immigrants, East Coast born, self-identifying lesbian who takes no prisoners when it comes to defending justice and fairness for all. Ecstatic about her new position, Jean-Pierre
happily rejoiced on Twitter writing, "Karine 'ambitious' Jean-Pierre is incredibly proud to be working to elect the Biden/Harris ticket. Let's go!!"
Jean-Pierre might be a new name and face to many but she has been fighting against inequality for years. 
Here are five things you should know about the political powerhouse that is standing tall for the woman who could be vice president.
Born To Haitian Immigrant Parents

Jean-Pierre was born on this day, August 13 in 1977 to Hatian parents in Martinique. However, she was raised in Queens, New York and is the oldest of three siblings.  

In 2019, she told PBS about her upbringing,  "My parents, Haitian immigrants, it's like the immigrant experience. They came here for the American dream that in many ways eluded them. They still live check-to-check, but in their eyes, because I made it to the White house, because their daughter went to Columbia, they have received it." 

Worked On Several Presidential Campaigns And In The Obama White House

The 43-year-old made it to the White House but even before working alongside President Barack Obama, she was the southeast regional political director for John Edwards' presidential campaign in 2008 then joined Obama's historic campaign  in the same capacity. The Columbia University graduate then served in the White House as the regional political director. By 2011, she was the National Deputy Battleground States Director for President Obama's 2012 re-election campaign. 

Jean-Pierre was also the deputy campaign manager for Martin O'Malley's 2016 presidential campaign and last year, she became the co-national political director for Sen. Kamala D. Harris' presidential campaign.

Once Harris' campaign ended, Jean-Pierre transferred her skills to Joe Biden's camp becoming a senior adviser to his presidential campaign. She told The Washington Post, "I've known Joe Biden for 10 years now. I believe he's a man of integrity, he's a man who knows how to lead, he's a man who knows how to use the levers of government to help people and he's the man who could beat Donald Trump in November. For me, as a Black woman, I just could not sit this out."

She's A Staple On Cable News

Karrine Jean-Pierre is known for her sharp, calm takes as a political analyst. She has appeared on  Fox News, Fox Business, MSNBC, CNN, CSPAN, PBS NewsHour and countless other media outlets.
Watch Jean-Pierre cooly shut down Trump supporter Steve Cortes in November 2016.

Author and Human Rights Activist

What clearly fuels Karine Jean-Pierre is the fight for equality. She has worked at the Center for Community and Corporate Ethics and in April 2016, she became the senior advisor and national spokesperson for MoveOn.org, which is a grassroots political organization that fights for social justice and political progress.  

In November, she released Moving Forward: A Story of Hope, Hard Work, and the Promise of America.  Stacey Abrams said about the book, "Moving Forward arrives at a moment when inspiration, insight, and optimism are in short supply. Karine Jean-Pierre delivers all three in abundance. Her advice resonates across differences with a single, necessary command: Move Forward. With Karine's book as our guide, we absolutely can".

Being involved in her community whether on the big or small stage has always been at the core of Jean-Pierre's work. In December LGBTQ outlet The Advocate, "Get involved in your community. Volunteer. Get involved in your church, temple, [or] mosque. This is an ugly and dangerous time in our nation's history. But to me, that is even more of a reason to get in the arena."

She added, "With so much at stake, now more than ever, I think we all need to engage in the political process. It is the only way we're going to be able to turn our country around." 


Ride or Die For Kamala Harris And There Are Receipts

While Jean-Pierre is always calm, cool and collected when a protester tried to charge at Kamala Harris in June of 2019, she shut it down and shut it down fast!
Watch below:

She told MSNBC about the incident, "I just thought it's going to go bad, and I cannot let this happen, and as you saw I just went into action. It was instinct."