'The Ms. Pat Show' Cast Talks About Teen Pressures Around Sex And How Healing Plays A Major Factor In Season Two
The cast also chats about sexuality and how their characters grow this season.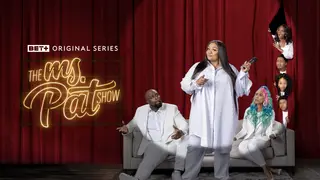 The Ms. Pat Show is back with more laughs and family fun. The second season according to series regular Tami Roman will be centered around healing.
BET.com caught up with the cast who talked about the new season, teen pressures revolving around sex, and their specialty go-to dish in the kitchen.
BET.com: Ashley enters a new relationship and introducing someone new to a mother and becoming more understanding of your sexuality may be tough. How do you think this storyline for Ashley will help fans who may be going through the same situation?
Brittany Inge: I hope it will give them the courage to know that when they decide to come out to their family, they take that journey with them. You have to be willing to continue to expand what your knowledge of yourself and your life looks like and be willing to continue to open those doors. Just like you want their acceptance, you have to give them a chance to do the accepting. I hope that it shows people that it's a work in progress, there is progress being made, and Pat is putting her best foot forward. I think that's possible for parents everywhere who are trying to just support their children and be the best version of whoever they are.
BET.com: There's an episode where Terry shows Junebug how to make his famous brisket. What's the specialty dish that you can throw down?
J. Bernard Calloway: Salmon for sure. I add a little bit of lemon pepper on the top and then I add my own spice with some brown sugar inside while it's cooking on the grill since it'll only be on there for a good 10 minutes at a 375 temperature. You want to make sure the meat is at 175 temperature at a minimum before pulling it out because you don't want it to overcook.
Tami Roman: I don't cook well so I try not to be in the kitchen often because it may end up burnt [laughs]. I can cook ramen well — and I do a good boil of the water. I take the ramen, and crack it in half in the boiled water for about a good 45 seconds — I like them a little al dente then you drop in that flavor packet. After that, then it's good to go.
BET.com: Denise is back and from the trailer, it looks like she and Pat are still at odds. How would you describe their relationship this season?
Roman: Pat and Denise are trying to heal and just for clarity, the entire season is about healing in one aspect or another. Their relationship was fractured at the end of season one and they're working towards being loving sisters to each other because they actually do love and care for one another. It's just sometimes egos and pride gets in the way and they've got to learn how to navigate through those.
BET.com: Janelle is always the voice of reason and seems to be the brains of the family but also shows her vulnerability side, especially with the Prom episode. What other layers will fans be able to see from Janelle?
Briyana Guadalupe: They'll continue to see me dealing with the ups and downs of my crazy family. As you said, I am normally the voice of reason in giving that advice to them but I feel like this season you see her really trying to adapt to her environment because she still misses where she's from back in Atlanta. She's still trying to figure out herself and find her place and find where she belongs in her journey — just expounding on her teenage years.
BET.com: Brandon finds himself shaking for cash this season as he is trying to earn some income. What are you most proud about in terms of Brandon's growth in season two and what other layers would you like to see him peel off as seasons continue?
Vince Swann: Oh, the growth part. What I'm proud about Brandon is that he's really trying to come into his own — he sees his siblings like Ashley being very, very successful in their careers. He's inspired by what he's seeing in the house and he also doesn't want to let his mom and dad down. It's like just for him to kind of muster up that, that courage and that motivation to get out there and actually try to find his niche is what I'm proud about with Brandon. Now, what I would like to see him get into is maybe not shaking a** like he's doing this season [laughs]. Let's look into something with showing less body because when the body starts breaking down, he won't be able to move like that [laughs].
BET.com: There's an important episode about sex and the pressures that Junebug faces this season. For teens struggling with the pressures of sex, what do you hope this episode teaches them and what advice can you share?
Theo Barnes: Being a teen, whether you're 13 to 19 you have your own instincts. You hear things at home, you're taught things at home, maybe you're not, but then you have this big, beautiful world that we live in and saying a whole bunch of other stuff. Junebug deciding which one he's going with and which one he actually does is tricky and for anybody listening — go with what you feel is right. I always tell people you don't want to make decisions because of what you heard or what somebody else has said because if it doesn't go right, you're gonna feel some type of way. I'd rather do something and be wrong, and know that I made my bed and my chin up, chest out, and deal with what comes. Junebug has a lot of chin up chest out situations, he's gonna be dealing with Season Two.
Gather the family up for a night of fun and watch season two of The Ms. Pat Show available for streaming on BET+.
---
*This interview has been edited for length and clarity
Ty Cole is a New York-based entertainment reporter and writer for BET.com who covers pop culture, music, and lifestyle. Follow his latest musings on Twitter @IamTyCole.