Hip Hop Awards 2022: Rap Songs You Probably Didn't Know Were Produced by Pharrell Williams
The Grammy Award-winning producer has worked with some of the biggest names in the industry across genres.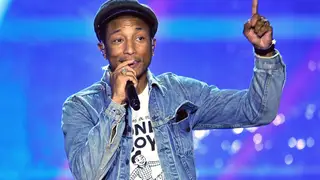 Pharrell Williams is one of the industry's most revered producers and musicians. The Virginia native has worked with various artists across different genres, and his collaborations have resulted in some of the most classic records in music history.  Ahead of the BET Hip Hop Awards 2022, where the music legend earned a nomination for "Producer of the Year," we're looking at several songs you probably didn't know Pharrell produced. And don't forget to tune into the ceremony airing Tuesday, October 4, at 9 PM ET/PT on BET.
Migos — "Stir Fry"

Former Atlanta hip-hop trio Migos released their 2017 single "Stir Fry" as a collaborative effort with Pharrell, who also produced the record. The song was successful despite sounding sonically different from the group's previous release, peaking at number eight on the Billboard Hot 100.

Kendrick Lamar — "good kid"

Pharrell served as producer and co-writer alongside Duckworth on Kendrick Lamar's "good kid," from his 2012 album Good Kid, M.A.A.D City. The West Coast native's second studio album was ultimately met with critical acclaim, earning the emcee four Grammy nominations at the 2014 ceremony, including Album of the Year.

T.I. — "Hello" feat. CeeLo Green

The Pharrell-produced "Hello" by T.I. featuring CeeLo Green from his 2012 album Trouble Man: Heavy Is the Head. The song finds the emcee rapping about his doubters and the impact of their negative comments.

Watch the Hip Hop Awards on Tuesday, October 4, at 9 PM ET/PT on BET