Barbra Streisand Uses Memphis Bleek Quote To Diss Donald Trump
She referenced the 45th president's alleged stealing of classified documents.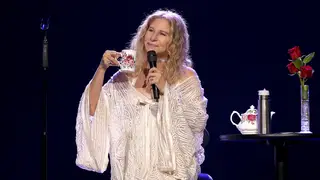 Barbra Streisand is more of a hip-hop fan than we thought.
In a tweet on Wednesday (June 7), the legendary singer wrote that Donald Trump's supporters are a "cult" and that a revolt is possible if he is found guilty in his possible forthcoming trial.
Streisand referenced the people involved in January 6, the attack on the Capitol a month after Trump lost the presidency to Joe Biden. She then reached for lyrics from Memphis Bleek's verse on Jay-Z's "1-900-Hustler," where he said: "The strong are quiet, the weak start riots."
"1-900-Hustler" comes from the Jay-Z-involved compilation project The Dynasty, which features guest appearances from Beanie Sigel, Freeway, and Scarface, among others.
After seeing the tweet, the Roc-A-Fella artist responded with raised hands and 100 emojis.