Man Admits To Killing Pop Smoke in 2020
The 18-year-old was charged with fatally shooting the Brooklyn rapper during a home-invasion robbery.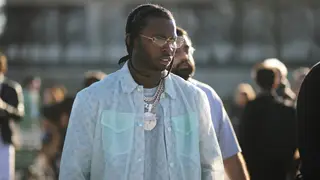 An 18-year-old man charged with the 2020 killing of Pop Smoke admitted to the crime in juvenile court Friday (May 12).
According to City News Service, the man, whose name was not released due to his juvenile status (age 15 at the time of the shooting death incident), admitted to a first-degree murder charge stemming from the February 19, 2020 killing of the rising Brooklyn rapper (born Bashar Barakah Jackson). He also admitted to a home-invasion robbery charge as well as an allegation that he personally and intentionally discharged a firearm during the crime.
He is expected to be held in a state juvenile facility until his 25th birthday.
The outlet reports that during the hearing, L.A. County Superior Court Judge J. Christopher Smith told the 18-year-old, along with his 19-year-old co-defendant, "That man lost his life over no good reason. … You have no right to take somebody's life. You have no right to take somebody's property."
The pair of men, along with a 20-year-old man who pleaded guilty to voluntary manslaughter and another count of home-invasion robbery during an April 6, 2023-dated hearing, could also both remain in custody until they turn 25.
A fourth man, Corey Walker (who was 19 at the time of the crime), is being charged in adult court and is now 22. He is currently awaiting a pretrial hearing scheduled for June 16 in Los Angeles on murder, robbery and burglary charges.