Blac Chyna Encourages Others to Go for the Big Chop
The socialite and model shared in a new video that she feels 'free' since starting her natural hair journey.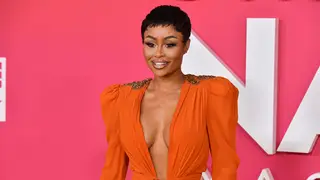 In a short video on Instagram, Blac Chyna candidly shared that she feels 'so free' after the 'fresh start' that came with cutting off all of her hair. "I feel really good," she said, "I feel really calm and grounded."
Chyna also mentioned that the procedures to dissolve cosmetic fillers in her face are continuing to dissolve, but that she may have to "go back two more times."
Entrepreneur Natasha Somalia commented, "I encourage all of my clients that want a fresh start to just do it. Some women do cry and that's ok it's the feeling of being FREE, 6 months later they are telling me how grateful they are that I helped them through the process of their journey whatever that may be… May God continue to guide you throughout yours much love!! I'm going to say it again with your platform someone sees you and truly needed to hear this."
The 35-year-old model, who now goes by her birth name Angela White, recently debuted an edgy pixie cut.
Hair is definitely on Chyna's mind as she is planning the grand opening for the flagship store for Hearts Pure Brand, her luxury hair company.
Hearts Pure hair is 100% Burmese hair and is currently sold online.
Chyna has been on a transformative journey all year. She had procedures to reduce her butt and remove breast implants. She has even cut her long, signature nails and quit her lucrative OnlyFans channel.
In a recent episode of Revolt's Caresha Please hosted by City Girls rapper Yung Miami, Chyna also addressed whether she dated Rob Kardashian to spite his sister Kylie Jenner who dated Chyna's son's father, Tyga.
"It definitely wasn't no 'lick back' type thing," she said on the latest episode of the Caresha Please podcast. "Like, no. I don't have the patience for all that. It may look that way, but it wasn't."
According to Chyna, Rob pursued her, "Rob hit me up for a long time," she shared, "and I just kind of, like, felt bad for him or whatever – not bad, but I just wanted to see what was up [because] at first when he was hitting me up, I thought they was trying to set me up — because why is your brother hitting me up? That's crazy to me."
She said that once the two of them started hanging out that Rob was "all chill vibes."
Chyna says that despite their turbulent relationship, the two do speak and co-parent their daughter, Dream, together while she and Tyga's relationship is very strained adding, "We talk through nannies."