Bloody Sunday Bridge Is Now an Historical Landmark
Edmund Pettus Bridge has been added to National Register of Historic Places.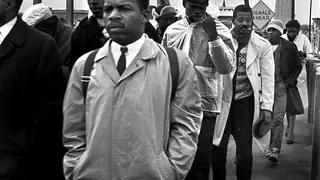 Selma, Alabama's Edmund Pettus Bridge, site of the 1965 Bloody Sunday march, has been named an historical landmark. It is one of 13 sites given the designation, including the home of Harriet Beecher Stowe, author of Uncle Tom's Cabin; and the Paterson, New Jersey-based Hinchliff Stadium, the home field used by Negro League baseball teams during the Jim Crow era.
"From the Civil War to civil rights, to the struggles and accomplishments of women, African Americans and Latinos, these sites highlight the mosaic of our nation's historic past," said National Park Service director Jonathan B. Jarvis. "We are proud to administer the National Historic Landmarks Program to educate and inspire Americans through their country's rich and complex history."
Earlier this month, thousands turned out to commemorate the 48th anniversary of Bloody Sunday, when protesters marching for Black voting rights were brutally attacked by state and law enforcement officers during an attempt to march from Selma to Montgomery. The attack led to the passage of the Voting Rights Act of 1965.

Hinchliff Stadium was a "separate but equal" field used by segregated teams, including the New York Black Yankees and the New York Cubans. Eleven players who are now members of the National Baseball Hall of Fame played there.
"Today's designations include significant sites that help tell the story of America and the contributions that all people from all walks of life have made as we strive for a more perfect union," said Interior Secretary Ken Salazar.
BET National News - Keep up to date with breaking news stories from around the nation, including headlines from the hip hop and entertainment world. Click here to subscribe to our newsletter. 
(Photo: Birmingham News /Landov)