Mom Of White Sorority Girl Who Posted Viral Video Calling Black People 'F*****g N****s' Says Her Daughter Deserved To Get Expelled
Jill Barbera is heartbroken to see her estranged daughter "degrading herself."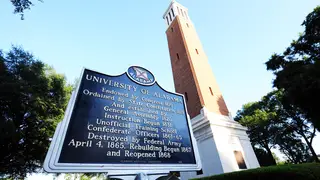 After Harley Barber was expelled from the University of Alabama and the Alpha Phi sorority, the 19-year-old's mother has spoken out in support of the school's decision. 
Barber's mother, Jill Barbera, said she kicked her daughter out of the house in 2016 and did not raise her to have these views. (Note: mother and daughter spell their last names differently)
"This is not a reflection of how she was raised. She's just degrading herself and it breaks my heart," Barbera said. "I hope someone can look at this and learn. I don't want anyone to feel what I feel." 
The estranged mother said Thursday that she supports the University of Alabama's decision to remove her daughter from the campus, reported NJ.com.
"I agree with the punishment," said Barbera, whose daughter earned national scorn for repeatedly using the n-word in an Instagram video. "I fully support their decision."
Barbera said she forced Barber out of the house in December 2016 after months of arguing. Barber then moved in with her paternal grandmother.
Despite Barbera's agreement with the punishment, three prominent civil rights activists urged the University of Alabama to rescind their decision in an open letter to the college's president, according to NJ.com.
Although the former American Civil Liberties Union officials said they were "dismayed and disgusted" by Barber's videos wherein she repeatedly used the N-word, they argue her expulsion was "unconstitutional, un-strategic and likely to be ineffective."
"The University of Alabama is an educational institution, and this was a teachable moment that you should not squander," the three civil rights activists wrote University of Alabama President Stuart R. Bell.
"The impulse to punish Ms. Barber in response to what she said in that video is understandable as an emotional reaction," said the letter signed by Ira Glasser, former executive director of the ACLU, Norman Siegel, former director of the New York Civil Liberties Union, and Michael Meyers, the president and executive director of the New York Civil Rights Coalition and former executive committee member of ACLU. 
The open letter by the civil rights activists says the school's decision is impeding on the right of free speech at public institutions.  
"The first ban on 'offensive' speech is never the last, and the power to ban speech is barred by the First Amendment because it all depends on who is exercising that power, and what he or she finds 'offensive,'" the letter writes argue.
Barber's words were found offensive by many; however, the activists suggest this expulsion can then be used in less popular scenarios. For example, if a student were to speak out in favor of abortion rights on a conservative campus and the school expelled them, they would be banning their own version of "offensive" speech.