NBA Suspends Phoenix Suns Owner Robert Sarver Over Racist And Sexist Behaviors
An independent investigation found 'troubling and disappointing' conduct, NBA commissioner says.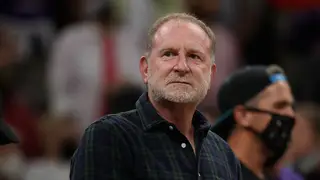 The NBA announced the suspension  of Phoenix Suns and Phoenix Mercury owner Robert Sarver on Tuesday (Sept. 13) after an investigation substantiated allegations that he created a racist and misogynistic work environment.
According to the key findings of the probe, which league officials launched in November 2021, Sarver repeated the N-word on at least five occasions when recounting the statements of others. He also demeaned female employees by making many sex-related comments in the workplace and inappropriate comments about their physical appearance. The investigators also found that he mistreated employees by yelling and cursing at them.
"The statements and conduct described in the findings of the independent investigation are troubling and disappointing," NBA Commissioner Adam Silver said.  "We believe the outcome is the right one, taking into account all the facts, circumstances and context brought to light by the comprehensive investigation of this 18-year period and our commitment to upholding proper standards in NBA workplaces.
During his suspension, Sarver must complete a training program focused on respect and appropriate conduct in the workplace and pay a $10 million fine, which the league said it will donate to anti-racism and gender equality organizations.
Sarver is banned from NBA and WNBA team facilities, events, games and participating in league business or governance meetings.
The report also found that several Suns employees engaged in similar inappropriate workplace conduct similar to their boss's behavior. Most of those employees no longer work for the organization, and the organization hired a new Human Resources director in July 2021 who has implemented "positive work changes."
An ESPN report on Sarver's conduct prompted the league to commission an independent investigation by the law firm of Wachtell, Lipton, Rosen & Katz. The investigation included information from interviews with 320 people, and evaluated over 80,000 documents including emails, text messages and videos.
According to ESPN's Adrian Wojnarowski, Sarver reportedly was "unaccepting" of the league's punishment.
Wojnarowski tweeted that while the NBA said Sarver cooperated with the investigation, sources told him that "the punitive part of the process became largely acrimonious." The sources also told him and ESPN colleague Baxter Holmes that Sarver didn't agree that he deserved a one-year suspension and a $10 million fine.

At least one NBA player voiced his opinion on the suspension, feeling that the punishment is not enough. Suns point guard Chris Paul tweeted that he felt Sarver's penalty "fell short" of what he deserved.