Shanquella Robinson's Family Rallies In Washington, D.C., Demands Biden Administration Intervention
Mexican authorities issued a criminal warrant for a suspect in Robinson's death while on vacation, and the family wants an extradition.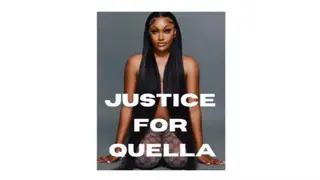 Family members and supporters of Shanquella Robinson, the Charlotte, N.C., woman who died during a trip with friends to Mexico last October, held a rally Friday (May 19) in Washington, D.C., to urge the Biden administration to extradite her alleged killer after federal authorities declined to pursue charges.
Ben Crump, one of the family's lawyers, said the legal team demands a diplomatic intervention and called on President Joe Biden to "prioritize bringing accountability for Shanquella Robinson's death to justice."
Robinson, 25, and six friends from college—four women and two men—lodged in a rented tourist property in Cabo San Lucas, while vacationing in Mexico. She was discovered unconscious on October 29. Robinson's family said that the friends told them that she had died of alcohol poisoning. But a video surfaced on social media that appears to show Robinson, naked at the resort, being beaten by another woman.
The Charlotte Observer reports that the rally took place on the 200th day since Robinson died and the first march since U.S. authorities said they lacked sufficient evidence to charge someone. In April, the FBI told The Observer that the agency reviewed all available evidence but didn't explain why the video wasn't enough evidence of a crime.
Meanwhile Mexican authorities have issued a warrant for a suspect on charges of femicide, targeting a female for homicide. An autopsy by Mexican officials said Robinson died from severe injuries to her spinal cord and neck.
But an autopsy conducted in November by a medical examiner in the United States found a major discrepancy with the findings of the autopsy performed in Mexico, according to The Observer. The U.S. autopsy found no spinal cord injuries and declared the cause of death undetermined.
Robinson's attorneys blamed the FBI for waiting until after her body was embalmed before the autopsy was performed, and they complained that the agency has failed to release any documentation to them.
"The FBI has declined charges, but the legal team is calling for the extradition proceeding to move forward based on the warrant presented by the authorities in Mexico," Crump stated.