Venus Williams's Mom Says Tennis Star Is Still 'Very Much' Upset About Fatal Car Accident
Thankfully she has a strong support system in place.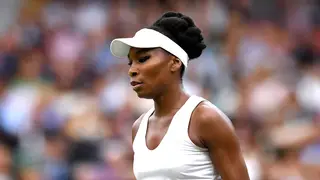 And it has been playing heavily on the 37-year-old tennis star's mind. 
When TMZ Sports stopped Venus and Serena's mom, Oracene Price, recently, she said that Venus is still "very much" upset over the crash in Palm Beach Gardens, Florida, which left Jerome Barson dead. And all Oracene can do is be there as a motherly shoulder for Venus.
"Just be there when she needs me," Price said when TMZ asked her about how she's supporting Venus during this trying time, adding that Serena is there for her older sister as well. "That's all."
Price added about Venus: "It's something that you kinda have to do internally yourself, but you'll never forget it. But it'll always be there so you just have to live with it."
Check out her full comments below.
A police report originally described the driver of the other car — the wife of Barson — as T-boning Williams's vehicle in an intersection in Palm Beach Gardens on June 9. Barson suffered head trauma and had to be hospitalized in an ICU unit, where he died two weeks later.
In addition to a support system of family and friends, Venus has been using tennis as a solace as well.
Williams made it to the Wimbledon Final match where she lost to Garbine Muguruza last weekend.
BET Sports News — Get the latest news and information about African-Americans in sports, including weekly recaps, celebrity news and photos of your favorite Black athletes.