Oscar Winner, Ruth E. Carter Partners With Thrilling For Vintage Studio Services Program Launch
The legendary costume designer partnered with the Black-owned vintage marketplace to help bridge the gap between stylists and sellers.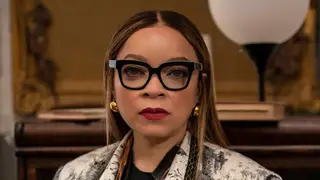 Thrilling, a Black-woman-owned premier marketplace for vintage and secondhand shops, has launched one of the world's first Vintage Studio Services programs in partnership with the legendary costume designer, Ruth E. Carter. 
The initiative helps stylists, costume designers, and production companies source vintage and secondhand items for TV and film projects. With nearly 1,000 shops across in their network the United States, this will help bring eco-friendly and sustainable practices into an industry that spends almost a billion dollars a year on new clothing. 
"It's thrilling!!! I really want to know where this has been all my life? Seriously. I can't tell you how many small vintage shops and back storerooms I have rummaged through," says Carter. "This idea not only brings the product to you, it cuts out all the sneezing!! Genius Thrilling. Happy to support small business, women in business and inclusion!!" 
You may learn more about Thrilling's Vintage Studio program is now available. You may learn more about their services here.