Utah Authorities Investigating Viral Video Of Teens In Blackface Wearing Chain Gang Uniforms
The woman recording the video at a local Walmart chastised the group.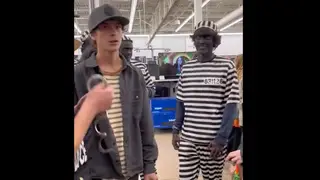 A video of teenagers in Utah in blackface for Halloween has gone viral.
The video, which was originally posted on TikTok, shows teens in a Cedar City Walmart wearing chain gang uniforms and someone can be heard saying in the background, "Do you guys understand the consequences of what you've just done?"
The person continues, "You guys are not going to get into a college. You guys are not going to get any scholarships because this is a hate crime."
Utah Governor Spencer Cox said in a statement to The Daily Beast, "We strongly condemn racism in all its forms and we call on every Utahn to reject such offensive stereotypes, slurs and attitudes. We must do better."
According to the Salt Lake Tribune, police are investigating. "While topics such as these can cause an emotional reaction, we encourage everyone to be mindful when sharing videos of juveniles on social media, including any cyber or other harassment that can accompany this type of incident," police said in a press release.
The statement continued: "There are some differences between what people think and what the law [is], because people have the freedom of speech, and we don't know exactly what happened," he said. "All we got is that one video, and so it's going to have to be investigated."
Additionally, the Cedar City Police said the department was not called about the Walmart confrontation, so they did not respond initially. Sgt. Justin Ludlow noted though that authorities are working with area school resource officers to determine if any of the teens involved were students at local schools.
Wearing blackface is the racist practice of using makeup to imitate the appearance of a Black person and dates back to the 1800s, when minstrel show performers began darkening their faces to create dehumanizing caricatures of Black people.
Ludlow additionally noted that even if all of the youths are identified, it isn't clear that they will be arrested or charged with a crime.
"There are some differences between what people think and what the law [is], because people have the freedom of speech, and we don't know exactly what happened," he said. "All we got is that one video, and so it's going to have to be investigated."