NYC Mayor Eric Adams Says The Surge In Violence Is A 'National Issue' In Comments On Mass Subway Shooting
'Red states are experiencing a higher murder rate than blue states,' Adams notes.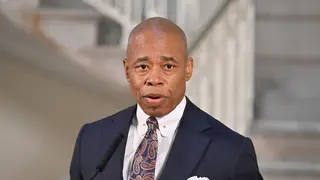 Following the recent subway mass shooting and increased gun violence across New York City, Mayor Eric Adams said Sunday (April 17) that the rising crime rate is a national issue.
In the video below, Adams shares his views on the national surge in gun violence.
Frank James, 62, was charged Thursday (April 14) with committing a terrorist act on a mass transportation vehicle after shooting 10 people on April 12, setting off a manhunt that ended about 30 hours later.
New York City Police Commissioner  Keechant Sewell, appearing alongside Adams on This Week, said transit crime is actually down compared to pre-Covid figures. Nevertheless, she is beefing up the visible police subway presence, along with other security measures that are less visible to the public.
Stephanopoulos pointed out red flags, including James' violent hate rants on YouTube coupled with his long police record, that should have set off alarm bells. He asked the mayor if a better way is needed to track such individuals.
Adams, a retired NYPD captain, urged social media outlets to "step up."
"There's a corporate responsibility when we are watching hate brew online. We can identify using artificial intelligence and other methods to identify those who are talking about violence," he added.
The anchor asked Adams if he agreed with a recent comment from former NYC Police Commissioner Bill Bratton that the progressive approach to police reform, including the defund the police movement, may have good intentions but results in higher crime rates and public fear.
"Yes, I believe he is right," Adams responded. "Major mistakes made throughout the years that destroyed the trust that the police commissioner is talking about. We have to rebuild that trust. But we can't rebuild that trust by allowing those who are dangerous and that have -- they have a repeated history of violence to continue to be on our streets."
Adams, who took office in January, campaigned on a platform of being tough on crime while reforming heavy-handed policing tactics in Black and Brown neighborhoods.
On Feb. 3, Adams and President Joe Biden met in New York for a summit on combating the surge of gun violence in the city. One of the takeaways from the meeting was that Biden and Adams are aligned on rejecting the call among many activists and Democratic party progressives to defund the police.