Brown v. Board of Education Pioneer Linda Brown Dies At 76 And Is Remembered For Her Youth Activism
At age 9, she was at the center of a historic case that ended segregation in schools.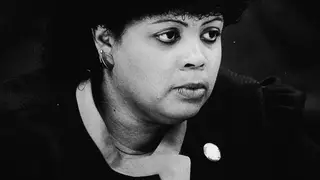 Friends, family, and people who were alive during the landmark 1954 U.S. Supreme Court decision ending segregation are mourning the loss of the Brown v. Board of Education case's central figure, Linda Brown.
Henderson, the founding president of The Brown Foundation, said the family wouldn't comment on her sister's death but the Peaceful Rest Funeral Chapel of Topeka will handle arrangements.
As the country witnesses the organization and protest of America's youth for meaningful gun reform, we should also remember the lives of the Black boys and girls who were thrust into the civil rights spotlight while they were only children.
In 1951, Brown's father, Oliver Brown, became the lead plaintiff in the Brown v. Board of Education case after attempting to enroll her as a third-grader in the all-white Sumner Elementary School near the family's home in Topeka.

Oliver's case was rejected and Linda had to attend the all-black Monroe School, about two miles from their home. At the time, the Topeka school district had about 18 elementary schools for white children and only four for Black children.

In response to his case, Oliver Brown gathered a dozen other plaintiffs in the NAACP's legal challenge of segregated schooling in Kansas. Cases from the District of Columbia, South Carolina, Virginia, Delaware and Kansas were consolidated into Brown v. Board of Education.

In 1954, U.S. Supreme Court ruled unanimously that "separate but equal" schools violated the equal protection clause of the 14th Amendment to the Constitution.

Topeka mayor Michelle De La Isla said Linda Brown made the city "a landmark of freedom."

"This is a huge loss to our community," De La Isla told the Capital-Journal. "We will continue to champion civil rights. When you look at the diversity of our community, I think we're already honoring her legacy."

As she grew past her years as an adolescent, Linda Brown found her voice and boldly fought segregation in schools again in the 1970s and traveled the country to talk about her experience in Topeka.

Many remember Brown as a fearless fighter for civil rights, even though being the face of a movement was difficult for her