Motown Legends Celebrate The Museum's Expansion
Smokey Robinson and an original member of The Temptations Otis Williams were in attendance.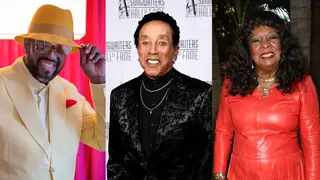 The Motown Museum has officially expanded.
Situated in the same house where Berry Gordy established Motown Records, the Motown Museum preserves the label's legacy and is a popular tourist attraction in the Detroit, Michigan area. According to ABC News, the now completed two-phase expansion includes Hitsville NEXT, an educational programming and creative hub, and Rocket Plaza, an outdoor community gathering place.
On Aug. 8, Motown legend Smokey Robinson, 82, was in attendance for a celebration of the museum's expansion. He said in a statement, "Kids who aren't even born yet will be aware of Motown. Some of their parents weren't even born when we started this. But it's a wonderful thing."
Otis Williams, 80, an original member of The Temptations, said, "I am very happy to be part of something—this here, Motown—(that will) outlast us all." The cast of the musical Ain't Too Proud performed the iconic The Temptations song "My Girl."
Founded on Dec. 14, 1959, Motown Record Company was the first large Black-owned music company in America. Founder Berry Gordy introduced Black popular music to the country and garnered wide acclaim for his artists, including Diana Ross and the Supremes, Stevie Wonder, Marvin Gaye, Michael Jackson and the Jackson 5, Gladys Knight and the Pips, and Lionel Richie and the Commodores. Motown's artists had the crossover power to break through racial divides of the era.
See the news clip of the museum's expansion below:
The newly upgraded museum will open to the public this Saturday (August 13).