Porsha Claps Back at Kordell Claiming She Leaked an Alleged Sex Tape
The Real Housewives star insists it wasn't her.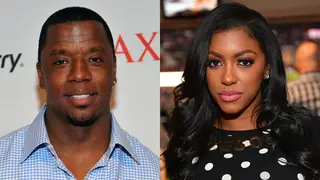 While rumors that former Real Housewives of Atlanta star Kordell Stewart is gay have been following the former NFL player for years, most recently speculation regarding a leaked sex tape have brought the allegations back into the spotlight.
Reports are surfacing detailing the video exposing a nude Stewart, but one source is claiming that while the video does exist, some parts of it have admittedly been altered. On top of that, his ex-wife Porsha Williams is claiming she had absolutely nothing to do with any of it.
Stewart's ex-wife Porsha Williams has since clapped back, denying his claim that she was the one responsible for the possible character defamation and leaked video, referring to the whole situation as a publicity stunt.
"The truth is I have not spoken with Kordell Stewart since the day I signed our divorce decree," Williams shared with TMZ. "I have nothing to do with Kordell 'TOOTING' his derrière to the camera for the world to see. I would suggest Kordell find another hobby and wish him a very Happy New Year."
Additionally, according to Black Sports Online, the woman who recorded the video shares that while the man in the video is in fact Stewart, some of the footage has been edited.
"I have to say a good portion of the video uploaded was sent to me, the real recipient," the source says, wishing to remain anonymous. "I am soon to be divorced and have seen Kordell privately for two months because I do not want our relationship to affect my divorce proceedings, as I began seeing him after we met on recent trip to Turks and Caicos. Of course, I was married at the time and was with my husband and his family on that trip."
She then explains she regrets passing around the video he sent her, especially considering the rumors that it sparked.
"Foolishly, I shared a video he sent of his penis to me with friends and was horrified to see it had been shared online with a false story about a gay relationship," she elaborates. "Even more horrifying was the fact that it has been edited to make it seem as though he exposed his butt. You'll notice that there is a black screen between the shot of his penis (which is real) and the shot of his butt. That's because the second shot (the butt shot) isn't of him and has been lazily tacked onto the original video. That is why the audio has been removed."
Essentially one can assert that the video simply got in the hands of someone with an agenda, and unfortunately have made a bit of a mess for Stewart as a result. The original recipient of the video also explained that the edited footage missed the detail that Stewart has a scar on his buttcheek, further proving that part of the video was edited.
Hopefully, for Kordell's sake, we'll have some more answers and clarity regarding this headache of a situation soon.