LOL: Erykah Badu Is Shooting Her Shot At Janelle Monáe And We Cannot Stop Laughing
She's got her LGBT Pride on full display for the Electric Lady.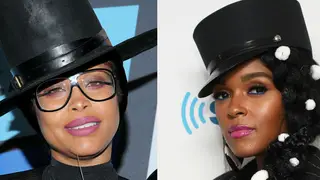 Neo-soulstress icon Erykah Badu celebrated LGBTQ Pride with a special message to a fellow sister-in-soul and apparent girl crush Janelle Monáe in a hilarious Instagram post on Sunday (June 24).
And according the Electric Lady's response, the feelings are mutual.
Erykah was only jokingly bothered at the fact that she had to find out that the Dirty Computer artist was part of the LGBTQ+ community via the internet.
"Happy Pride, Janelle Monae," she said in the video. "My 'twenty.' I had to find out over the internet. So I guess I'm not your type. What a person doesn't say speaks volumes. Happy Pride…you gay."
Her caption on the video extended the love, which is quite fitting for Janelle considering that this is her first Pride month celebration since revealing her sexual status as pansexual back in April. She also responded to Fat Belly Bella's concerns with as many laughter faces as we all had after hearing the message.
"Well…since we being honest…you were one of my first crushes," she said behind a series of laughing emojis. "I thought you knew. LOVE YOU. Thank you! Happy pride!!!"
Take it from Erykah, folks: you miss 100 percent of the shots you don't take!
See their loving LGBT Pride messages for each other in the post below.