Who's The G.O.A.T.? Bad Boy vs Ruff Ryders | Round 1
In the tournament to decide the greatest rap crew of all time, this Round 1 battle is a Big Apple bout between Bad Boy and Ruff Ryders.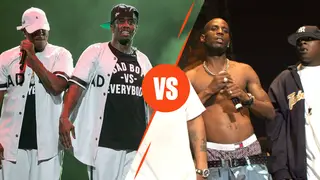 In recognition of hip hop's 50th anniversary, BET Digital, in partnership with Ambrosia For Heads, is celebrating the culture by hosting a bracket-style competition that allows you to determine hip hop's greatest crew.  
Rather than having "experts" tell you who is the greatest of all-time, this is your opportunity to collectively make that decision. After giving the opportunity to any and all fans to provide feedback on which crews should be included, 32 collectives from different regions, styles, and generations have been selected—all vying for that #1 spot. When the final battle is over and the last vote is cast, you will have determined who is your Greatest Rap Crew of All Time.
By the late 1990s, the Ruff Ryders and Bad Boy worked together—as two New York City movements with incredibly talented and diverse crews. In the middle of the decade, Biggie Smalls became one of the most talented and beloved rappers ever to touch a microphone. After B.I.G's passing, DMX emerged with a raw intensity, grit, and soulful relatability that made for a new rap idol. Beyond their superstars, both Bad Bad and Ruff Ryders have successfully introduced and branded a handful of artists. 
As three stalwarts of the Double-R crew, the LOX were also an integral part of Bad Boy during a transition. DMX leveraged feature appearances on The LOX debut and Ma$e albums to build momentum ahead of his five consecutive #1's. These crews proved that steel sharpens steel, even into the 2010s, when X became a headliner on the Bad Boy Reunion Tour. While these rivals have broken bread together and uplifted one another, they must do battle in a Round 1 East Coast clash.
Bad Boy
On Craig Mack's 1994 "Flava In Ya Ear" remix, Puff Daddy paid homage to the chant from The Warriors beckoning his "Bad Boys, come out to play." The producer and his two breakout artists did just that. Almost 30 years later, this crew is still rumbling with a parade of hits, awards, plaques, and arena-sized reunion tours. 
At the center of the Bad Boy squad was one of the most revered MCs of all time— The Notorious B.I.G. In addition to a classic debut, Biggie released a Junior M.A.F.I.A. album for his Brooklyn clique and a sophomore, diamond-certified double album decorated with crew love. 
These artists shouted out one another in lyrics, appeared together in bright-colored Hype Williams videos, and experienced celebrity as a unit. B.I.G's co-sign and Puffy's tutelage helped provide Ma$e, The LOX, Black Rob, and off-label talent Lil' Kim their moments in the spotlight—including anthems like "Mo Money, Mo Problems," "Bad Boy For Life," and the remix to "It's All About The Benjamins." The Bad Boy family also brandished its tight-knit connection on takeover remixes for Mariah Carey, Total, Mary J. Blige, and 112. 
Bad Boy eventually became a lifestyle, and its artists and producers flaunted it as one. Even as the crew personnel shifted and some artists left the label, reunion tours and collaborations maintained the bond beyond the business. Sean Combs is a proven master of identifying and amplifying cultural trends to the highest level. Bad Boy's crew lived up to its name, leading with attitude and leaving an everlasting impression on hip hop.
Ruff Ryders
Rap fans could hear the Ruff Ryders coming, just like the motorcycles, ATVs, and dirt bikes associated with their videos. After years on the grind, DMX gave the crew a 1998 takeover with not one but two #1 albums, including a name-brand hit in "Ruff Ryder's Anthem" and its squad-showcasing remix. Rugged raps, bike stunts, and growling at the camera created the perfect aesthetic for a hard-nosed rap crew from Yonkers. 
These MCs are unapologetic, abrasive, and almost always backed by top-quality production. This collective yielded a superstar producer and personality in Swizz Beatz, nephew to the crew's OG's, Joaquin "Waah," Darin "Dee," and Chivon Dean. Drag-On's debut went gold, while the MC joined DMX on screen in two films. While most crews see even their core challenged by time and fame, the Ruff Ryders exude the loyalty reserved for family.
In this celebration of hip hop and all of its talented crews, your vote decides the winner, so vote below.
---
EDITOR's NOTE: Register for the sweepstakes for a chance to win the grand prize of two (2) tickets to the 2023 BET Awards, two (2) round-trip airline tickets, and a 2-night hotel stay on June 25. Up your chances to win by voting weekly.
NO PURCHASE NECESSARY TO ENTER OR WIN. VOID OUTSIDE OF THE 50 U.S. & D.C. AND WHERE PROHIBITED BY LAW. Open to legal residents of the 50 U.S. & D.C. who are 18 years of age or older at the time of entry. Ends at 12:00 p.m. ET on May 1, 2023. Official Rules: bet.com/grcoat-official-rules  Sponsor: Black Entertainment Television.