This Old Video Of Joe Budden Warning Of XXXTentacion's Fate Is Seriously Chilling...
"He got some issues and he don't value his own f**king life!"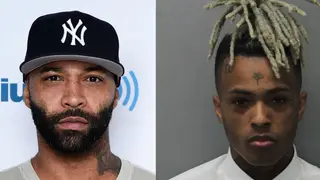 The death of Miami rapper XXXTentacion was untimely to say the least, and for much of his committed, widespread fan base, devastatingly unexpected.
For podcaster, hip-hop luminary and former Everyday Struggle co-host Joe Budden, however, he might have seen X's fate from a mile away.
Back in November 2017, a rather passionate debate broke out on Complex's digital series between Joe and his then-co-host DJ Akademiks regarding hip-hop beef and street code as it related to the late rapper's former beef with Atlanta rap clique, Migos. Around this time, X sparked rumors that the three-man trap music group jumped him amid tension with one-third of the crew, Offset. He poked a little further by bringing Offset's current fiancée and Bronx rap star Cardi B into the mix.
Joe had an issue with how Akademiks was going about his affiliations and reporting in the millennial rap circle, especially as it related to such hostile beefs. He reminded Akademiks of his violation of basic street code and advised him to "stop reporting on street sh**" before things got ugly. The former Slaughterhouse emcee also expressed his frustration with X's combative, social media-driven "IG marketing" that frequently finds its way to Akademiks's Instagram handle.
"Because little f**kity-f**k n**gas like this," he said of XXXTentacion. "F**kity-f**k n**gas, who every time his name comes up, I give him good advice and he ignores it. So now what do you think I'm gonna do—continue to waste words and breath?"
He continued urging Akademiks to stop posting young rappers like X who bring their street beef to the digital streets, especially after he'd recently gotten caught up in some explosive, real-life incidents. His major concern is that certain situations X got tangled up in could escalate to more serious levels.
"He got some issues and he don't value his own f**king life!" Joey belted out. "He done got punched on a stage, he is fighting for his life in court, you are beating fans up—man, no!"
To be clear, Joe doesn't actually predict any deaths or fatalities of any of the people involved, and it's worth noting that X did squash his beef with the Migos prior to his passing. Hopefully, however, Joey's word about taking heed from hip-hop OGs doesn't go over anyone's head.
Check out his thoughts on tensions and street code in millennial rap circle below.