Cam Newton Stars in PETA Ad Talking About The Vegan Diet That Transformed His Body
I've seen such a remarkable change in the way my body responds to the food that I eat."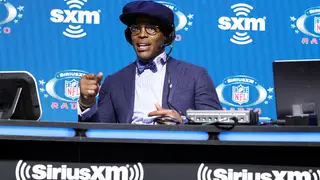 Recently signed New England Patriots quarterback Cam Newton says that since becoming vegan a year ago, he's seen a "remarkable change" in his body and the lifestyle has helped him recover from injury faster.
Newton, 31, injured his shoulder in 2018 during a game while he was with the Carolina Panthers. In 2019 he reportedly changed his diet to plant-based to help himself heal.
"I've seen such a remarkable change in the way my body responds to the food that I eat," said Newton in an interview featured in a new advertisement video for animal rights advocacy group PETA.
In the video, Newton said that he's been asked how he gets enough protein while eating plant-based diet. But he said that he doesn't have a problem finding the nutrients he needs.
"A person may ask how do you get your protein, how do you get your this, that, and the third," he said. "You get it in the same way that they get it. It's just a more cleaner, a more fresher [sic] way."
Others, he says, tell him they have thought about taking up the lifestyle but they're conflicted. He said it takes discipline to do it. "We have to incorporate a lot of discipline in our everyday life and why not do it with food?"
Newton has joined many other professional athletes who have adopted the vegan lifestyle including tennis champion Venus Williams, National Women's Soccer League star Alex Morgan, Brooklyn Nets star point guard Kyrie Irving and UFC fighter Nate Diaz.