BET Awards 2022: Giveon Serenades Audience During Performance
The singer had some technical difficulties with his mic but quickly recovered.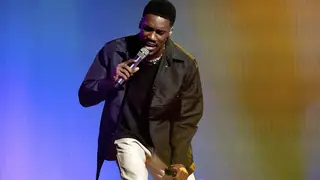 Singer Giveon performed a medley of tracks, including one of his latest singles: "Lie Again."
Giveon crooned, moving the audience with his melodic, sultry voice.
Host Taraji P. Henson described his voice as "smooth as butter and silky… silky like chocolate milk."
At one point during his performance, Giveon, 27, attempted to fix his earpiece and requested to swap out his microphone following his performance of "Heartbreak Anniversary." Keeping his composure, he picked the vocals back up during "Lie Again," a song from his debut album, Give Or Take.
"Every time I am making a song or writing a story, at the moment, I don't have the intention of where that will be placed," he says in an interview with Rolling Stone. "After two years of going through life and writing about life, I start to put them together."