Celebrating 7 Times Black Entertainers Prioritized Their Mental Health
Many of us are moving from "hustle culture" to emphasizing mental health. Here are 7 moments when Black celebrities chose to prioritize their peace.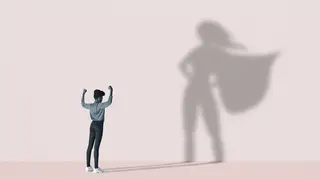 In recent years, we've seen a switch from "hustle culture" to prioritizing mental health. More people seem to prioritize their mental health over their family, friendships, and even careers. Accordingly, mental health is becoming a priority for some of our most adored celebs, showing us that success isn't always without mental health challenges. Putting an emphasis on your mental health can have an abundance of benefits. Transformational Specialist Dr. Sonja says, "Focusing on your mental health can support control of emotions, especially stress, allowing you to be better equipped to concentrate." Here are seven times Black entertainers prioritized their mental health.
Simone Biles

Simone Biles is the world-celebrated gymnast who stole our hearts. In 2016, she became the first female U.S. gymnast to win four gold medals at a single Olympic Games. Biles had then catapulted to a level of success gymnasts worldwide dream of. However, her mental health soon became an issue. After a medical evaluation, it was revealed that Simone Biles would be stepping down from the 2020 Tokyo Games due to her mental health. Since making that important choice, she has continued to prioritize her mental health, saying in an interview, "I enjoy taking walks outside and indulging in a little retail therapy." So do we!

The Wades

The Wade family doesn't play about their mental health! Dwyane and Gabrielle Union have been very open about their mental health journey. They' also emphasize protecting their children's mental health. They have a blended family of five children Zaire, Zion, Xavier, Kaavia, and Dahveon Morris--the basketball superstar earned full custody in 2011. When their daughter, Zaya, wanted a social media account, the parents decided to restrict the comments on her social media page. Dwyane Wade said in an interview, "It is important for us as parents to protect our kid's mental health."

Naomi Campbell

In the words of Megan Thee Stallion, "Bad B's Have Bad Days Too." The fashion supermodel, Naomi Campbell, has been known for her fierce behavior, but she, too, has had her struggles. Campbell is typically very private about her personal life, but in 2019 she gave us an inside look at how she feels about her mental health. Telling The Guardian, "I want to stay in the light. I don't want to be in the darkness. I don't have depression, but mental health is something that I care about a lot." It seems she's been tackling her mental health through the Narcotics Anonymous program for years.

Regina Hall

Regina Hall shocked her supporters when the actress opened up about her depression. The actress collaborated with the Child Mind Institute on what she would tell her younger self about her depression. She shared the inspiring message in order to bring more attention and compassion to younger people struggling with mental health. Telling us in the viral video, "We go to trainers to get our bodies fit. Why would we not seek mental help when we are not feeling mentally aligned."

Meghan Markle

It seemed the world rejoiced when rumors that she and Prince Harry  were dating emerged. The world watched as the two wed in a traditional royal setting in front of the entire world. Not too long after, the Dutchess Of Sussex's mental health began to decline. The British tabloids harassed the former actress almost daily with harsh claims and rumors. When one reporter asked Megan if she was "okay," she replied, "No." In January 2020, Prince Harry and Meghan Markle decided to prioritize her mental health by leaving the Royal Family.

Taraji P Henson

Taraji P Henson has never been shy about bringing us on her mental health journey. The actress went on a solo trip to Bali to find her joy after discovering she wasn't in a good place mentally. She shared with Sherri Shepherd in an interview, "I decided to take control and find my joy again, that deep joy." Since then, the actress has started the Boris Lawrence Henson Foundation - a non-profit that provides affordable access to culturally competent therapists. The foundation's mission is to help those struggling with mental health to find their north star to joy.

Charlamagne Tha God

The legendary radio host shared in his book Shook One: Anxiety Playing Tricks On Me that he didn't discover he had anxiety until his 30s. Whenever he had a panic attack, he would immediately go to the emergency room, thinking he had a heart attack. His personal struggles have encouraged him to be more vocal about mental health support in Black Communities. Charlamagne has partnered with the Mental Health Alliance to address the Black community's mental health gap.