Guess Who Is Furious Over Blac Chyna and Rob Landing Their Own Reality Show
The shade never ends.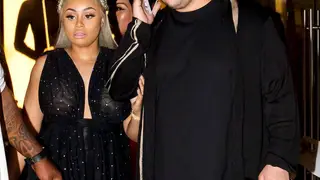 Blac Chyna and her fiancée, Rob Kardashian, are set to join the reality-TV circuit pretty soon, and while several people are stoked to DVR their relationship, Rob's little sister Kylie's not here for it.
According to Radar Online, once Kylie found out her brother and soon to be sister-in-law were going to be following in her family's footsteps, she flipped out.
"Kylie was beyond furious after she found out," a family insider said. "She is really going through it right now over this whole situation."
What's worse is Kylie's mom, Kris, apparently orchestrated the entire thing — the infamous momager brokered the deal for Rob and Chyna's show without Kylie knowing.
"Kylie feels betrayed because Kris did the dirty deal behind her back," the insider added. "She said she did not want to upset her anymore."
It's reported that the 18-year-old is also furious because she's been pushing for a spin-off reality show of her own for some time now.
Get the rundown on Blac Chyna's addition to the Kardashian family in the BET Breaks video, above.