Soul Train Awards 2022: SiR Heats Up the Stage with His Debut Soul Train Awards Performance
The West Coast crooner is shaking up the neo-soul genre with his mellow sultry stylings.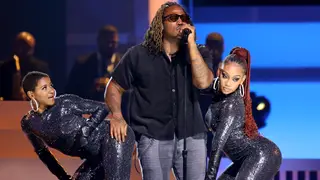 Rising neo-soul singer, songwriter, and Top Dawg Entertainment signee SiR has been heating the music scene with sultry tracks like "Hair Down" and "D'Evils." Still, things got a little hotter following his performance at the Soul Train Awards 2022, hosted by the hilariously funny Deon Cole.
Dressed in all-black attire, the west coast native, hailing from Inglewood, California,  gave a soulful rendition of his latest single, "Nothing Even Matters." SiR later crept off stage and into the audience, where he spotted singer Ari Lennox, promptly serenading the songbird, nearly sweeping the "Pressure" singer off her feet.
The tune may sound familiar to music listeners as it samples neo-soul pioneer D'Angelo's classic record, "Send It On."  SiR released that track last September. He initially previewed the song on Instagram after he shared a clip of him and his mother in the studio listening to the track.