Chi, Oh My!: Kim Kardashian Does A Nude Photo Shoot With Chicago
Guess North was booked.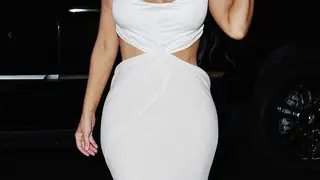 Kim Kardashian is no stranger to showing off her ASSets in front of the camera to sell her products, and this time she has her adorable 8-month-old daughter, Chicago, in tow for a mommy-daughter moment. 
Kim took to Instagram today to share with her 119 million followers a new promo picture highlighting her pink eyeshadows in the "Flashy Lights" collection for her beauty brand KKW Beauty. In true Kim fashion, she's wearing nothing but pink eyeshadow from the collection and lavender metallic pants while cradling her youngest child, Chicago West. 
Kim captioned the photo: "My heavenly baby! Showing off the new pink shadows in the Flashy Lights Collection wearing Flashy and High Key available at KKWbeauty.com."
The mother-of-three has allowed her eldest two children, North and Saint to pose professionally in front of the camera, but fans on Instagram have mixed emotions about the photo. Some think it's the cutest thing ever, while others feel that Kim may be reaching by having her naked baby in the photo, and needs to stop using her children for likes.  
Read some of the comments below. 
Even though the picture is gorgeous, do y'all think the leader of the Kar-Jenner clan is doing too much to sell makeup?
Drop a line in the comments section below.