Regina Hall: 'It's a Wonderful Time to Be a Woman' in Hollywood
The actress talks her new film, People Places Things.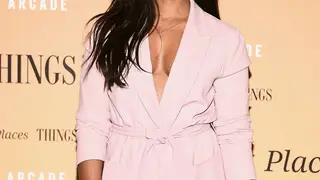 Regina Hall has found her lane when it comes to the roles she takes — a Black rom-com hardly seems complete without her — but with the independent comedy People Places Things (which hits theaters today), she veers slightly outside of her comfort zone with refreshingly satisfying results. As Diane, a teacher and single mom who falls for a father of two (Flight of the Conchord's Jemaine Clement), Hall is as grounded and real as we've seen her. We caught up with the veteran actress to talk about her new role, the first thing she does when she tries to make a character her own and why she believes it's a great time to be a Black woman in Hollywood.
We're used to seeing you in big, over-the-top ensemble rom-coms. This is a very different role for you. What drew you to this project?
My agent sent me the script. I read it and I really liked it. I thought it was really smart and sweet, and I liked the breakup from the guy's point of view. I also love that the character is a Black woman who is an educator, and that she's a single mom but who's a great single mom. She had difficulties in relationships but she was open. I just thought Jim [Strouse, the director] had a lot of interesting roles for women, especially two of the women who were Black, they just didn't feel stereotypical.

It seems like you brought a lot of yourself to the character of Diane. What kind of work do you do to prepare for a role?
It's really weird. I read the script a few times and figure out the character's back story, and I have to figure out how she wears her hair. I don't know...it all starts with the script, obviously, and then the life you give them off the paper. And then, the hair. Isn't that weird? I can't see the character until I see the hair completely. 
Does your vision of a character's hair always make it on the screen?
I've had times where the director doesn't necessarily agree. Like Best Man 2, Malcolm [D. Lee] didn't see her with a bob. I was like, "I don't see her with long hair." He was probably annoyed, but I got to set and he loved it. 
You and Jemaine Clement have an interracial relationship in this film, and it's not a big deal. It's not even part of the plot. As a Black actress who has probably been boxed in plenty of times in Hollywood, was that refreshing for you? 
I liked that Diane was written with no race in mind. It wasn't like, "Now that I've made her Black, let me add a line." In [writer/director Strouse's] thought process, it wasn't about Black or white, it was, "Who would I love to play this part." I loved that it wasn't addressed. It was obvious, but it wasn't addressed. Everyone lives in different places, and different situations, but it would be nice if we saw people as people in life and not just the color of their skin, and decide who they are from that. And I understand, you know, I understand where that comes from. But it would be nice to get to know people not based on that. Maybe our police officers would do that more.
You've worked with some comedy heavyweights — from Kevin Hart to Marlon Wayans and, in this film, Jemaine Clement and Jessica Williams — and really held your own each time. Do you see yourself as a comedienne?
Comedy is just something that happened to me. I didn't study comedy acting or improv. I did Scary Movie, which was my biggest role, and then I kind of got known for it. But I really enjoy doing it. When I get scripts, like when I got Scary Movie, I knew exactly what I wanted to do with her. 
People keep saying we're entering a Golden Age of diversity in Hollywood, at least on television. Do you agree?
I do agree. I just think it's always wonderful to see women working, period. Definitely, women of all races that are older are being more respected and not marginalized based on their age. The success of Scandal, How to Get Away With Murder, and Taraji [P. Henson] on Empire...it is a wonderful time to be a woman of age in this business. 
Watch Regina talk about her success and career in this throwback interview on The Mo'Nique Show, below:
BET.com is your No. 1 source for Black celebrity news, photos, exclusive videos and all the latest in the world of hip hop and R&B music. 
Click here to enter the #LookYourSundayBest contest for a chance to win FREE natural hair-care products.
(Photo: Andrew H. Walker/Getty Images)