A Helping Hand: Pepsico Foundation And The National Urban League Partner To Save Black-Owned Restaurants
"Our goal is to provide grant assistance to 500 businesses in five years."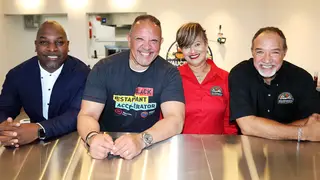 Black-owned restaurants are the backbone of the Black community and many have been in business for generations. COVID-19 impacted these businesses disproportionately with  41% of Black ownership decreasing and 51% of Black-owned businesses experiencing low sales. This was the largest decline of any racial group during the pandemic. Black entrepreneurs have long faced systemic barriers to growth, including access to loans and capital, biased community perceptions, and gentrification challenges. The COVID-19 pandemic only exacerbated these hurdles.
The Black Restaurant Accelerator (BRA) program stepped in and made a $10 million commitment to Black-owned restaurants to ensure they survive and thrive. The program is a partnership between the PepsiCo Foundation and the National Urban League.
"As a large food and beverage company, we thought about what opportunities we had to make a powerful and local impact in Black communities," said C.D. Glin, the Global Head of Philanthropy & VP of PepsiCo Foundation. "Many Black-owned restaurants had to adapt to the many challenges created by the pandemic and when we were considering how to help, focusing on Black restaurants became an opportunity to have a big impact. We couldn't do it alone so we reached out to the National Urban League, our long-term partner, which has ties within the community and focuses on local economic growth. That's how the BRA program came to be."
The results have been monumental. In one year, the BRA awarded 100 Black restaurateurs with a financial grant. Additionally, 400 restaurants received holistic support including counseling and training sessions. The Program plans to award direct grant assistance to 500 businesses along with technical assistance and mentorship. So far, it has created 14 new businesses and saved more than 60 jobs.
"The question we asked ourselves was can we help these restaurants get back on their feet, reopen, and reimagine a future that includes implementing new foods, delivery services and business goals. The goal over five years is to serve 500 businesses," said Marc Morial, President and CEO of the National Urban League.
While people have returned to attending cultural and community events in person, oftentimes it's small businesses like Black-owned restaurants that make these events possible.
"Black ownership doesn't mean you're only serving what I call Black Cuisine, which are dishes that are associated with African American culture, Caribbean culture, or continental African culture.  They are also serving Asian, vegan and Italian food," said Morial. "We have a new generation of entrepreneurs trying their hand at building new restaurants, creating new menus, and more like the Vaucresson family in New Orleans, who have been in business for three generations and are working to build and sustain their businesses."
The Vaucresson family includes three generations of butchers who specialize in sausage at Vaucresson's Sausage Company. After Hurricane Katrina shuttered the company, the family decided to replant their roots and rebrand their business. As they rebuild their sausage company, after Katrina and Covids devastating effects, they will also open a cafe deli in the neighborhood where they've existed for 120 years. Along with their cafe, they will be offering two primarily affordable apartments to house indigenous residents of New Orleans who have been displaced due to gentrification.
"It's wonderful when you find resources like the Black Restaurant Accelerator program. It has provided a wonderful amount of grant money to restaurants suffering due to the pandemic. But they also bring their expertise; their knowledge is ongoing and truly the gems of the program,"  said Vance Vaucresson, owner and operator of Vaucresson's Sausage Company. It keeps us, business owners, from making very expensive mistakes. It's not just a grant or financial help, it's the support they give that is most valuable."